Defence
What Turkey got for allowing Sweden and Finland to join NATO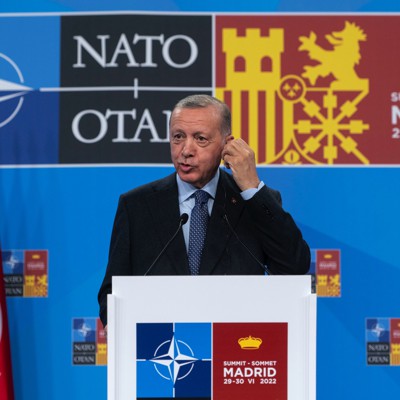 It was a nail-biter, NATO's welcoming of Sweden and Finland to the alliance just hours before the opening of the alliance's summit in Madrid.
However, most people stopped paying attention to the sluggishness of the negotiations between the contenders and the only ally who blocked their invitation. Surprise unanimity made possible by giving Turkey much of what it wanted, including attention to its unique status in the alliance.
The second half of May began for NATO on an exciting note: Sweden and Finland, which for so long confirmed their military non-alignment, submitted applications for membership in the alliance. Experts predicted that the alliance would welcome them as potential members at a summit in late June. But Turkey quickly dampened the joy, reneging on its landmark agreement and complaining about the two countries' support for Kurdish groups, especially Sweden.
And now peace and harmony. What happened? In their three-way match on June 28 memorandum— in the achievement of which NATO Secretary General Jens Stoltenberg and the Biden administration took a significant role — three countries I agree that "as potential NATO allies, Finland and Sweden provide full support to Turkey in the fight against threats to its national security. In this regard, Finland and Sweden will not support the YPG/PYD [Syrian Kurdish People's Protection Units and the associated Democratic Union Party]and the organization is described as FETO in Turkey". "Finland and Sweden unequivocally condemn all terrorist organizations that carry out attacks against Turkey and express their deep solidarity with Turkey and the families of the victims."
It was a victory for Turkey. Last November, the ruling Social Democrats of Sweden had promised deepen cooperation with the PYD, a left-wing Syrian Kurdish party that is also an affiliate of the Turkish PKK. Why should the Social Democrats promise to deepen cooperation with this unlikely partner? As they tried to find a parliamentary majority for their minority government and achieve an already shaky one-vote parliamentary majority, they had to appease Amina Kakabawe, a member of parliament who had been sacked from the Left Party and was sitting as an independent. And Kakabawe, a former Peshmerga fighter, did maximum use levers of influence, demanding support for Kurdish affairs. In fact, she seemed to relish her sudden power.
"Everyone is bowing to Erdogan only because of the problem with Putin," she said said in one of many interviews with international media. But at the end of June, the Swedish parliament completed its term; it will resume after the parliamentary elections in the country in September. Prime Minister Magdalena Anderson was no longer beholden to Kakaba, who cannot be re-elected, and could sign a memorandum with Turkey. Of course, so could Finland, which never bothered Turkey in the first place.
Although the devil of all intergovernmental agreements is enforcement, the Swedish-Finnish-Turkish memorandum was definitely a victory for Turkey. In addition to condemning support for the PYD, Sweden and Finland pledged to lift the suspension of arms exports to Turkey and to "promptly and thoroughly review Turkey's pending deportation or extradition requests for terrorist suspects, taking into account the information, evidence and intelligence provided by Turkey." . "
What it means was explained President Recep Tayyip Erdogan in Turkish media: Sweden will have to extradite 73 terror suspects to Turkey, he announced. Meanwhile, Washington has made it clear that it is ready to sell out to Ankara new F-16 fighters and upgrade kits for existing F-16s.
Many members of Sweden's large Kurdish minority, who arrived in Sweden as refugees over the decades, were horrified by the deal. But as a senior NATO official told me, "Sweden and Finland have learned their first lesson in collective defense": some members of collective defense can be difficult, even unpleasant, but for the benefit of improved security for all of you, they are there to work with.
Sweden and Finland can certainly try to minimize the implementation of the memorandum. But in the end, Erdogan's block on their succession was not the ruse that many initially suspected – a ruse, we thought, to get the F-16s. It was about Kurdish terrorism, a very real national security problem for Turkey. With Sweden and Finland eager to join the alliance, Erdogan has been given the opportunity to seek the concessions he has long desired.
It's a sad turn of events for the Kurdish community, but Sweden has had to weigh its national security interests against those of a community that mostly resides in the Middle East. And at the summit in Madrid, NATO had to demonstrate unity. Vladimir Putin, of course, paid attention.


https://www.defenseone.com/ideas/2022/06/what-turkey-won-letting-sweden-finland-join-nato/368843/ What Turkey got for allowing Sweden and Finland to join NATO