Aviation
Truss confirms 'extraordinary measures' to freeze bills, reform energy markets and lift fracking ban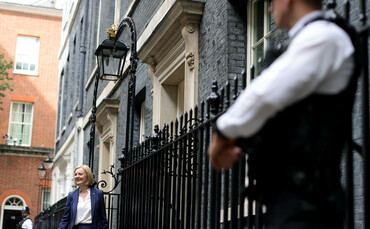 Prime Minister outlines strategy to rein in household energy bills, confirming plan to significantly boost UK domestic energy supply and reform UK's cap-and-trade regime
Liz Truss unveiled her long-awaited plan to protect homes and businesses from soaring energy costs this winter and beyond, with the new Prime Minister today announcing a freeze on bills from next month alongside moves to lift the fracking ban, pay for green fees through taxation , as well as carry out a major reconstruction of clean electricity contracts.
The Trust also announced plans to set up a new task force to examine potential reforms to energy markets and launch a new review to examine how the UK can reach the net-zero target by 2050 "in a way that supports business and growth".
The government said the net zero review will aim to "ensure we achieve our net zero target by 2050 in a cost-effective way, given the changing landscape", and that "meeting the target does not place an undue burden on businesses or consumers". The review will be chaired by Tory MP Chris Skidmore, a staunch supporter of Britain's net zero target, who is tasked with reporting to the government by the end of the year.
Just days after moving into Downing Street as the UK's new prime minister, Truss is under intense pressure to respond to the worsening energy crisis after a summer campaign in which she repeatedly refused to set out more detailed plans. Bills are set to soar to £3,500 from next month due to the ongoing impact of the coronavirus pandemic on energy markets and Russia's war in Ukraine. The situation threatens to leave millions of homes and businesses unable to pay their electricity bills this winter amid worsening economic problems driven by soaring inflation and energy security concerns.
As a result, Truss said "extraordinary problems call for extraordinary measures" as she set out a sweeping plan for the energy crisis and vowed to ensure "Britain never finds itself in this situation again".
Speaking in the House of Commons earlier, Truss said the Government would cap typical household electricity bills at £2,500 for the next two years and also temporarily suspend environmental charges currently added to energy bills, which are used to funding outdated renewable energy subsidies and energy efficiency schemes.
The government has confirmed that taxpayers will cover the cost of the support package through increased borrowing – which could cost somewhere in the region of £150bn depending on volatile gas prices – and that it will also pay for green fees over the next two years "to make sure the UK's investment in home-grown, safe renewable energy technologies continues.'
The trust estimated that the moves would cut electricity bills by around £1,000 a year and stressed that this would be on top of the £400 rebate that will be handed out to households this autumn under plans unveiled earlier this year at to her predecessor in Downing Street, Boris Johnson. .
In addition, businesses, charities and public sector organizations will also be exempted from rapidly rising bills through a six-month support package to be introduced shortly with an "equivalent guarantee", the Prime Minister said. She explained that business secretary Jacob Rees-Mogg had been tasked with completing a review within three months to determine which sectors would need additional support beyond the first six months.
However, no new measures have been announced to boost energy efficiency and renewable energy, which many believe are critical to reducing dependence on expensive fossil gas and lowering energy costs.
But Truss said her proposals were designed as a means of supporting the country in the near term, while the government took simultaneous measures to tackle the causes of the crisis by boosting the UK's domestic energy supply and reforming the energy market.
"I am acting immediately to ensure that people and businesses are supported for the next two years with a new energy price guarantee and address the root cause of the problems by increasing domestic energy supply," Truss said.
In addition to the immediate support package, the Prime Minister unveiled new plans aimed at transforming the UK's energy supply by reforming the UK energy market in a bid to reduce the cost of electricity in the long term.
She has backed recent proposals by the UK energy sector to move nuclear and renewable generators to a new type of contracts for difference (CfD), offering them new 10-15 year CfDs at fixed prices below current surge rates, in a move aimed at to reduce their existing contract prices to reduce bills.
"Renewable and nuclear generators will move to contracts for difference to end the situation where electricity prices are set based on the marginal price of gas," Truss explained. "This will mean that generators receive a fair price that reflects the cost of production."
The Prime Minister also stressed that boosting domestic energy supplies will be central to the government's plan to protect the UK from future energy shocks, setting a new target for the UK to become a "net energy exporter by 2040". with the development of a plan to achieve the goal for the coming months.
She noted that this would include accelerating the deployment of clean technologies, but offered few additional specifics or new policies. "We are accelerating the deployment of all clean and renewable energy sources, including hydrogen, solar, carbon capture and storage and wind, where we are already a world leader in offshore generation," she told parliamentarians.
But as expected, the Truss has committed to increasing UK domestic oil and gas production, confirming plans to launch a new round of licensing for oil and gas production in the North Sea, which it said could lead to more than 100 new licences. . And she confirmed widely expected plans to lift the moratorium on fracking if there is local support.
In her speech to the House of Commons, Truss also sought to offer advice to businesses faced with soaring electricity bills, as she urged them to explore ways to reduce electricity consumption on the grid by installing on-site generation or introducing demand-side measures. "In the meantime, companies that have the necessary funds need to look for ways to improve energy efficiency and increase direct energy production," she said.
But those were the only mentions of energy efficiency in today's policy announcement, which lacks demand-side measures widely seen by energy and climate experts as a critical solution to meeting climate goals and protecting consumers from soaring gas prices.
The Prime Minister blamed the current crisis on Russian President Vladimir Putin's manipulation of energy markets, inadequate regulatory structures and Britain's failure to secure sufficient energy supplies.
"The fact is that the energy policy of recent decades has not been sufficiently focused on ensuring supply," she said. "There is no better example than nuclear when the UK has not built a single new nuclear reactor in 25 years. And it's not just about supplies. Regulators have failed to expose problems with price capping in the retail trade, but not in the wholesale market. All of this has left us vulnerable to volatile global markets and malicious actors in an increasingly geopolitical world."
Responding to Truss via the House of Commons letterbox, Labor leader Keir Starmer slammed the government for not taking decisive action over the past 12 years to accelerate the use of renewables, nuclear and energy efficiency, which could reduce Britain's exposure to expensive gas.
He also questioned the huge costs associated with the Trus support package as he repeated Labor calls for a windfall tax to be extended to energy and fossil fuel companies making huge profits during the worsening crisis.
"This support does not come cheap. The real question facing the government is a political question – who will pay?" he said. "Working people will take the bill."
Starmer went on to call for a major "clean energy sprint" and rapid roll-out of home insulation and energy efficiency measures, criticizing the decision to lift the ban on fracking and expand oil and gas production in the North Sea, which he said he would "lead the carriage and horses through our efforts to combat the looming climate crisis."
"Doubling fossil fuel use is a ridiculous solution to the fossil fuel crisis," Starmer said.
Elsewhere, the plan has drawn mixed reactions from the green economy. Many welcomed the government's decision to step in to support vulnerable homes and businesses facing steep bills this winter, but others criticized the move to scrap green bill charges, lift the fracking ban and lack of new support for renewable energy or energy efficiency.
Sam Hall, director of the Conservative Environment Network (CEN), an influential parliamentary group of more than 100 Tory MPs, welcomed the protection for homes and businesses and added that "the Prime Minister's revolution in the supply side to tackle the root causes of the gas crisis is reasonable."
But he stressed that expensive gas was the cause of the crisis and called on the Prime Minister to remove barriers to cheap, popular onshore renewables such as wind power, and called on the Chancellor to secure funding for a major new home heating scheme .
"The huge cost of this unprecedented intervention reveals the cost of our dependence on volatile and expensive gas," he said. "The right strategy to reduce our dependence on gas is the right strategy to reduce our dependence on gas. I am delighted that I am delighted that the Prime Minister has today again pledged to achieve her net zero. This will make us a net energy exporter and free up cheap energy to drive economic growth."
Business groups were also grateful for the support to help firms weather the worst energy costs this winter and beyond, but reiterated calls to accelerate net zero as a solution to the crisis.
Raine Newtown-Smith, the CBI's chief economist, said the "devil will be in the details" of the government's business support package, but said decarbonisation would provide a way out of the crisis.
"Despite these difficult times, businesses have no doubt that doubling net zero is the way out of this crisis, the way to grow our economy and the way to make ourselves more energy resilient in the future," she said.
https://www.businessgreen.com/news/4056041/truss-confirms-extraordinary-measures-freeze-bills-reform-energy-markets-lift-fracking-ban Truss confirms 'extraordinary measures' to freeze bills, reform energy markets and lift fracking ban