E-COMMERCE
KwikFit NL launches the industry's first e-bike and EV service centers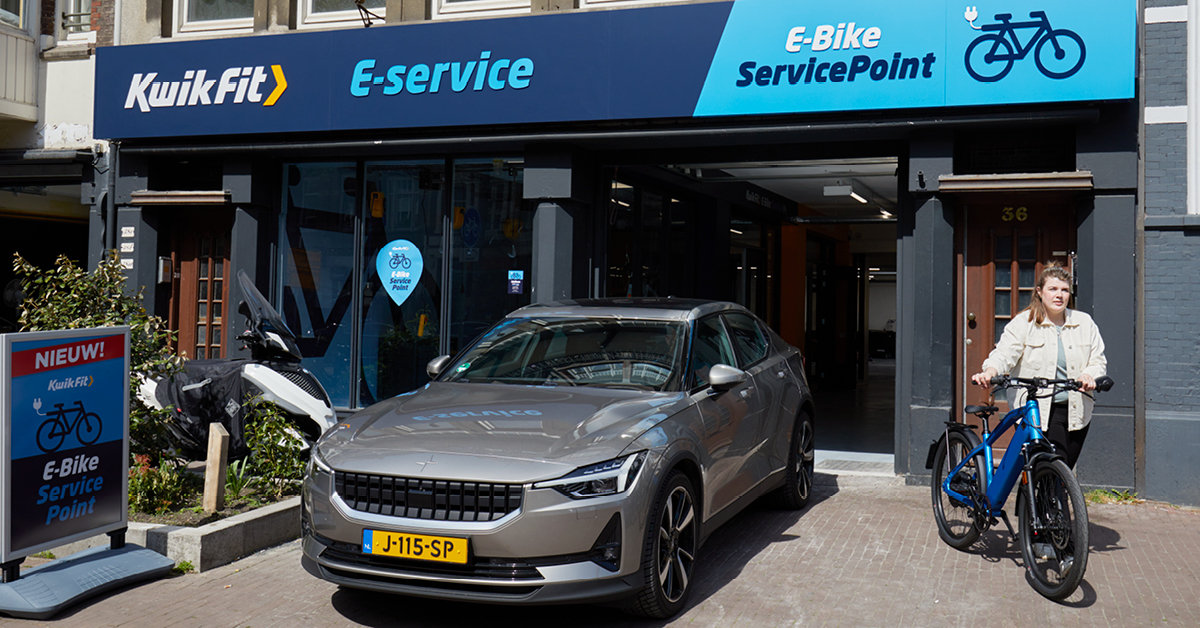 KwikFit NL has announced the opening of its first E-Service branch in Amsterdam, setting a benchmark for future services and support for e-mobility.
The press release emphasizes that customers can turn to the "garage of the future" to service both their electric car and e-bike. In addition, the garage functions as a test lab for e-mobility, where a variety of new electric vehicles, including electronic cargo bikes of all shapes and sizes, electronic minivans and LEVs (light electric vehicles), can be sent for maintenance.
This knowledge and experience will form the basis for the further development of the e-service concept, which will eventually be deployed in all KwikFit garages.
In addition, KwikFit is opening several e-bike service points in Amsterdam, The Hague, Utrecht and Eindhoven, where people can ride their e-bikes on a fast service model: quickly make an appointment online and get help within an hour.
Thanks to this, KwikFit supports the transition to electric control, and the company helps to make electric transport accessible to all.
Electronic bicycle service
With a significant percentage of e-bike sales in the Netherlands taking place online, KwikFit's e-service subsidiary provides a local service point, regardless of seller or brand, as well as fast service for which the company has become known. For example, customers can make an appointment online and count on transparent prices and fast service in one hour. These first service points serve as a springboard for expanding other branches with this service (electronic bike) over time. "
Peter Bicker, Director of Electronic Mobility at KwikFit Netherlands. "We see that more and more types of electric cars are entering the market, from electronic bicycles to electronic microcars. The way the Dutch move from A to B will change dramatically in the coming years, and we see this as an important role for ourselves. "
Martin Post, Managing Director of KwikFit NL comments. "For us, this is the first big step towards the e-mobility market and garage of the future. The energy transition is in full swing, and we see this as a role in e-mobility. " "To contribute to the energy transition, we will ensure that the maintenance and repair of all types of electric vehicles can be carried out easily and quickly. That is why we are expanding from a car garage to an e-mobility service for electric cars. "
Zero emission zones
The announcement concludes that from 2030, all vehicles in zero-emission zones (in the Netherlands) must travel completely without emissions. This means that there are urban areas, and hence KwikFit garages, which from 2030 can no longer be reached by car with fuel.
Bikker states: "Thanks to the concept of e-services, people who drive electric vehicles can still turn to us for service. In this way, we ensure that even in a world without emissions, we can continue to provide the same quality and services to which people are accustomed. We really see KwikFit's future in the concept of e-services ".
Developing e-mobility UK
in the UK, study commissioned by Bike is Bestconducted by researchers at the University of Westminster, found that expanding the use of electronic bicycles will bring many benefits.
Reducing congestion, pollution and urban noise levels all make the environment safer, faster and less cost-effective. At this last point, "the mayor of London has shown that there are traffic jams in the capital costs the economy £ 5.1 billion a year, which is £ 1211 per driver."
Due to the fact that Active Transport users are moving from cars to a combination of micro-mobility and public transport, it will be extremely interesting to see when e-services garages start entering the UK market.


https://cyclingindustry.news/kwikfit-nl-launches-industry-first-e-bike-and-ev-servicing-and-maintenance-centres/ KwikFit NL launches the industry's first e-bike and EV service centers