Aviation
Global investors are calling on governments to raise climate ambition ahead of COP27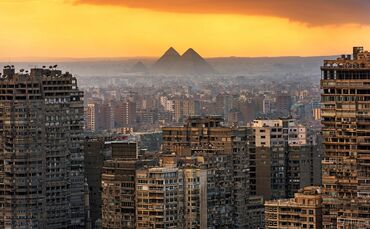 This week, a group of more than 500 global investment managers managing more than US$39 trillion in assets issued a new statement calling on governments around the world to increase climate ambition in line with the goal of limiting global temperature increases to 1, 5 degrees Celsius. the upcoming COP27 climate summit.
The Global Investors to Governments 2022 Statement on the Climate Crisis was signed by 532 leading investment firms, who together called on governments to strengthen their medium- and long-term climate strategies through new commitments to transition from fossil fuels, end deforestation, support climate finance flows and increase disclosure corporate climate risk.
Led by The Investor Agenda, the call is open to more investors to join the call for more government action ahead of the COP27 summit, which is due to take place in Sharm el-Sheikh, Egypt, in November.
At last year's COP26 climate summit in Glasgow, countries signed the Glasgow Climate Pact, which committed them to strengthening national climate action plans – known as Nationally Determined Contributions (NDCs) – to ensure they meet the 1.5C temperature target at the heart of the Paris Agreement. The pact also included commitments to "phase out" the use of coal power, increase investment in clean technologies, climate finance for developing countries and advance negotiations on a new mechanism to help poorer countries deal with climate-related losses and damages. .
However, while some countries have introduced new NDCs in recent months, campaigners warn that the vast majority of national action plans are not on track to achieve the level of decarbonisation needed to put the world on a 1.5C warming trajectory. Moreover, there is great concern that geopolitical tensions caused by Russia's invasion of Ukraine and long-term standoff over the failure of industrialized countries to provide more support to climate-vulnerable regions could derail the talks in Sharm el-Sheikh.
So this week's investor announcement seeks to echo long-standing predictions by leading companies that bolder climate action will bring huge benefits to the global economy.
In particular, the statement calls on governments to introduce legislative requirements for investors to develop climate transition plans, strengthen climate disclosure rules for the financial sector and strengthen climate rules for companies.
"Investors are urgently seeking to control their exposure to climate risks and increase the contribution of their investments to the goals of the Paris Agreement," the statement said.
"Investors are taking action because it is not only permitted by law, but in many cases required to ensure their ability to generate long-term returns as a core fiduciary duty and to benefit from the opportunities associated with the transition to net zero. emissions economy.
"We urge governments to engage closely with investors to ensure that these risks are effectively managed and that these opportunities are fully realised."
The statement also calls on governments to step up efforts to combat methane pollution, improve climate adaptation and resilience, and increase climate finance for developing countries.
The investors who signed the statement said that if the government takes a series of priority policy measures, it will allow them to invest the "trillions" of dollars needed to respond to the climate crisis and accelerate the transition to net zero emissions.
In particular, he called on governments to implement domestic policies in the real sector of the economy and take early action to ensure that their greenhouse gas (GHG) emissions by 2030 meet the goal of keeping global temperature rise to 1.5C.
Investors said governments should also do their part to reduce emissions of greenhouse gases other than carbon dioxide and support effective implementation of the Global Methane Pledge to reduce emissions by at least 30 percent from 2020 levels by 2030.
In addition, governments have also called for increased provision of climate finance from the public and private sectors for mitigation, adaptation and resilience, with a particular focus on the needs of developing countries, while also seeking to strengthen climate disclosure globally. financial system.
The Global Investors Government Statement on the 2022 Climate Crisis coordinated by the founding partners of the Investor Agenda, which include the Asian Climate Change Investor Group, CDP, Ceres, the Climate Change Investor Group, the Institutional Climate Change Investor Group, the Principles for Responsible Investment and the UNEP Finance Initiative.
The intervention takes place a few days after a an important new report from the Oxford Martin School described in detail how the global transition to a clean energy system could save about 12 trillion.
https://www.businessgreen.com/news/4056342/global-investors-governments-raise-climate-ambitions-ahead-cop27 Global investors are calling on governments to raise climate ambition ahead of COP27