Aviation
Global Briefing: Denmark reaffirms pledge to finance loss and damage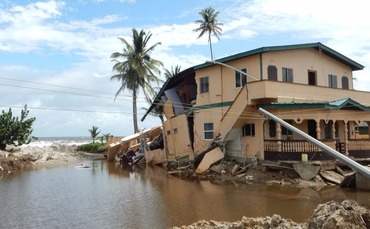 Denmark has become the first member of the UN to offer financing for loss and damage
This week, Denmark became the first fully-fledged country to pledge money to help developing countries cope with climate-related "losses and damage".
At the UN General Assembly on Tuesday, the Danish government pledged 100 million Danish kroner ($13 million) for loss and damage initiatives.
At last year's COP26 climate summit in Glasgow, the Scottish Government became the first regional government to offer loss and damage funding, pledging £1m. But Denmark's move makes it the first UN member to agree to long-standing calls from developing countries for industrialized nations to set aside climate funds specifically designed to cover losses and damages.
Danish Development Minister Fleming Møller Mortensen said: "This spring in Bangladesh, I saw first-hand that more attention needs to be paid to the effects of climate change. It is very unfair that the poorest people in the world should suffer the most from the effects of climate change, which they are responsible for. came contributed the least. In this new agreement, we hide actions behind words."
The move is significant because it breaks a long-standing reluctance by industrialized nations to provide financing for loss and damage due to concerns that such a financing mechanism could be interpreted as a form of compensation for climate damages that could leave the world's biggest historical polluters open to legal liabilities and limitless compensation.
Negotiating loss and damage has been one of the persistent dividing lines at the UN climate talks, with last year's COP26 summit ending with an agreement to continue talks on the topic after the US and EU again rejected proposals for a formal mechanism to finance loss and damage. The issue is expected to be high on the agenda of the upcoming COP27 climate summit in Egypt.
The new funding commitment includes a grant of DKK 35 million ($5 million) to Frankfurt-based InsuResilience, which subsidizes insurance in poor countries, and DKK 32.5 million ($4 million) to support initiatives related to loss and damage in the Sahel region.
World Bank chief under pressure over skeptical climate comments
World Bank President David Malpass this week tried to back down from skeptical climate comments that have sparked renewed calls for him to step down.
Speaking during a public event in The New York Times at Climate Week in New York, Malpas dodged a request to respond to former US Vice President Al Gore's accusations that the Trump appointee was a "climate denier". When asked if he agreed that man-made greenhouse gas emissions are causing a worsening of the crisis, leading to more extreme weather conditions, Malpas said, "I'm not a scientist."
The exchange sparked calls for Malpas to step down, unrest at the World Bank and fresh accusations that the institution is not doing enough to mobilize investment in low-carbon infrastructure.
Malpass was on CNN Thursday morning, saying "it's clear that greenhouse gas emissions come from man-made sources, including fossil fuels," and insisting that "I'm not in denial."
He also released an internal memo to World Bank staff explaining his position, in which he stated that "it is clear that human-induced greenhouse gas emissions are causing climate change and that dramatic increases in the use of coal, diesel, and heavy fuel oils like developed economies as well as in developing countries, creates another wave of climate crisis".
Vanuatu's president calls for signing fossil fuel non-proliferation treaty
Elsewhere at the UN General Assembly this week, the president of the Pacific island nation of Vanuatu called on governments to support proposals for a fossil fuel non-proliferation treaty that would oblige governments to halt all new coal, oil and gas development.
"Every day we feel the more debilitating effects of the climate crisis," said President Nikenike Vourabarovu. "Fundamental human rights are being violated and we measure climate change not in degrees Celsius or tonnes of carbon, but in human lives. This emergency is of our own making."
The move makes Vanuatu the first state to back proposals for a new treaty to try to meet calls from the UN and others to end the development of new fossil fuels.
Norway's sovereign wealth fund calls on companies to achieve zero targets
This week, the giant Norwegian wealth fund worth 1.2 trillion. dollars has made it clear that it plans to push the companies it invests in to implement robust net-zero strategies more strongly.
The fund, which is one of the largest investors in the world with a stake equivalent to approximately 1.3 percent of all listed global shares, announced a new plan to intensify engagement with 174 companies, which are among the largest issuers in the world. The fund said that together these companies account for 70 percent of all emissions in its portfolio.
General Director of the Foundation Mykola Tangen told Reuters companies can expect "more frequent and more specific follow-ups."
"They will see more pressure from us than other companies," he added.
The new plan follows a proposal made in April by the Norwegian government, which said the fund must ensure that all 9,300 companies it invests in reduce their emissions to zero by 2050.
It comes in the same week that some leading banks were reported to have cooled on their membership of the Glasgow Financial Alliance for Net Zero, amid concerns that the group's requirement for members to develop robust plans to move to net zero could put them at risk of legal action. challenge if they continue to invest in fossil fuel projects.
Netherlands announces new offshore wind targets
The Netherlands has set a new target of 70 GW of offshore wind capacity by 2050, backed by interim targets of 50 GW by 2040 and 21 GW by 2030.
The new plan also includes proposals for offshore energy hubs, green hydrogen plants and increased clean energy trade with neighboring countries.
"Earlier this year we made firm plans for 2030," said Rob Jetten, the Netherlands' climate and energy minister. "Now we are also drawing up an ambitious plan until 2050. This gives us space to look further and work carefully. 70 GW of capacity is very ambitious, and in the coming years we will see exactly how many gigawatts are needed. This gives us the opportunity to sustainably electrify a large part of the Netherlands and, for example, to produce green hydrogen for industry.'
France unveils new renewable energy plan
French President Emmanuel Macron officially opened the country's first offshore wind farm this week, unveiling a new plan to "hugely accelerate" the roll-out of renewable energy projects.
"The war changed everything… it disrupted the European model because many countries depended on Russian gas to produce (energy)," Macron said in a speech during a visit to the Saint-Nazaire offshore wind farm. "And clearly, for the first time, energy has become a weapon of war."
"We need a massive acceleration," he added. "I want us to go at least twice as fast on renewable energy projects… Our neighbors have often managed to do more, better and above all, faster."
A new renewable energy bill is expected to be presented to the Cabinet next month, which will focus on reforming planning processes to rapidly speed up the time it takes to approve new offshore wind and solar projects.
Macron said the goal is to deliver 50 offshore wind farms by 2050 and increase the country's solar power capacity 10-fold and double France's fleet of offshore wind farms. The new measures will also aim to encourage solar projects along highways, railways and on commercial rooftops, as well as on low-value agricultural land.
Hertz and GM have teamed up for an order for 175,000 EVs
This week, Hertz and General Motors announced an agreement under which Hertz can order up to 175,000 electric Chevrolet, Buick, GMC, Cadillac and BrightDrop models over the next five years.
The agreement will cover electric vehicle (EV) deliveries through 2027 as Hertz increases the EV component of its fleet and GM ramps up production of its EV lineup.
Hertz estimates that its customers will be able to drive more than eight billion miles in the new electric vehicles during this period, saving approximately 1.8 million metric tons of carbon dioxide equivalent emissions compared to similar gasoline-powered vehicles traveling the same distance.
"It's exciting that two iconic American companies that have defined the evolution of transportation for more than a century are coming together to reimagine the future of mobility in the 21st century," said Stephen Sher, CEO of Hertz. "We are very excited to partner with GM on this initiative, which will dramatically expand our electric vehicle offering for Hertz customers, including leisure and business travelers, drivers and corporates."
Volta Trucks sees the first electric model roll off the assembly line
Volta Trucks confirmed this week that the first Volta Zero vehicle has been completed at the company's contract manufacturing facility in Styria, Austria.
The vehicle, the first of a series of second-generation "Proof Production" prototypes, will be part of a pilot fleet of trucks that will be made available to customers for an extended period in late 2022 and early 2023. The start of series production of the customer Specification cars is planned to begin in early 2023, the company said.
The US Senate has ratified the Kigali Amendment to combat HFCs
The Biden administration scored another climate victory this week after the US Senate voted 69-27 to ratify an amendment to the Montreal Protocol aimed at reducing the use of hydrofluorocarbons (HFCs).
The passage of the so-called Kigali Amendment should help accelerate efforts to reduce the use of HFCs, a potent greenhouse gas commonly used in heating, ventilation, air conditioning and refrigeration (HVACR) systems.
"This is a win-win in our fight against climate change, and it will go a long way in combating rising global temperatures while creating tens of thousands of good-paying U.S. jobs," Senate Majority Leader Chuck Schumer said Wednesday.
The passage of the amendment represents the second major victory in Congress in the past few months, following the surprise passage of the Inflation Reduction Act, which is expected to catalyze billions of dollars in investment in clean tech supply chains and low-carbon infrastructure.
https://www.businessgreen.com/news-analysis/4056530/global-briefing Global Briefing: Denmark reaffirms pledge to finance loss and damage