E-COMMERCE
Fully Charged talks flipping the traditional bike shop model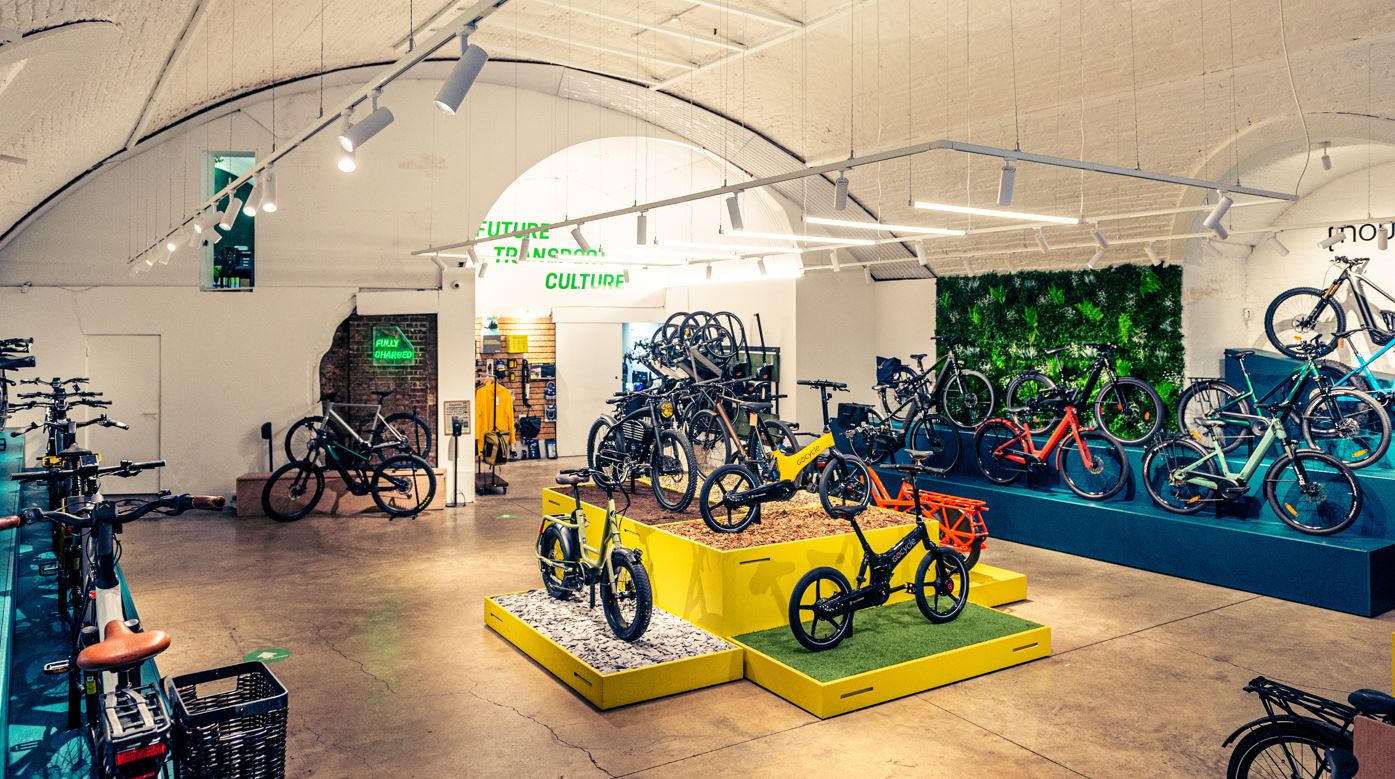 In order to attract commercial customers alongside regular consumers, eBike specialist Fully Charged has adopted retail practices more commonly found in the automotive trade as Duncan Moore discovered when he talked to Dan Parsons, the company's Founding Partner and Head of Business Sales…
Whether you like them or not eBikes are here to stay and the market for them is growing. While some IBDs are content to simply dip a toe in the water others are completely devoting themselves to the scene. One such example is Fully Charged, which has gone from a simple pop-up store in London to a growing group of stores around the country with an impressive e-commerce operation backing the bricks and mortar stores.
Founding Partner and Head of Business Sales, Dan Parsons (right) takes up the story of how Fully Charged was started when former super and performance car salesman Ben Jaconelli (below right) decided he'd prefer selling two-wheeled transport to four. "Ben founded Fully Charged back in 2014 as a pop-up shop in Old Street station." For those unfamiliar with London, Old Street is an underground station in East London, which as Parsons notes "is a very weird place for a bike shop and everyone thought he was completely nuts but Ben's quite a visionary. He saw that eBikes weren't for 'cyclists' and Fully Charged has been incredibly successful."
That success began with the move into the company's first permanent store. The first fixed store was a space shared with a coffee shop in Globe House on Bermondsey Street, a location close to London Bridge railway station, which sees thousands of city commuters pass through every day. While the two businesses were run independently they worked well together as everyone knows coffee and bikes go together. However, as Fully Charged continued to grow it was time to move on again.
"With the coffee shop share we'd done as much as we could," explains Parson. "We'd expanded upstairs, we opened up the basement, too. The workshop was downstairs and that meant that every bike box had to come in through the front doors and down the wiggy stairs before we could do anything with it. It became utterly impractical as the business took off. We were there until we moved in 2020 to our present showroom in Crucifix Lane. That was our first big showroom."
The expansion to larger physical premises was not the only way in which the operation was growing as Parsons goes on to explain: "With the business expansion we made a conscious decision about three or four years ago, pre-pandemic, to not simply be a retailer with a website. We were going to try to be an e-commerce operation supported by bricks-and-mortar stores. Our idea was to flip the traditional bike shop model; bricks and mortar would be the showrooms; touchpoints and experience centres."
While the team at Fully Charged have not yet completely achieved that aim it is developing. Parsons feels that the stumbling block is a general reluctance among eBike buyers. "People generally don't have the confidence to spend four-figure sums on something they haven't had their hands on."
However, Parsons is confident that the change will come and Fully Charged is already starting to see an increase in e-commerce being driven by a situation that negatively impacted many other retail operations.
"Covid really accelerated how we planned to promote this idea of retailing. Pre-Covid we had already started to do virtual consultations. People might come to us via the website and they can book an appointment with an expert and discuss things. We can use Skype, Facetime, etc and walk them round the bike and inspire them with confidence if they are not local to one of our stores. The pandemic really accelerated this way of working and we did a lot of no-contact sales during the lockdowns.
"The e-commerce side of things has grown massively, but even so the majority of transactions are done instore and this is why having a demo fleet is so important. People might do all of their research online, they may have made the actual purchase online and we will have delivered the bike to them but at some point, they will have visited a store and actually taken a bike out for a test ride. It is a huge part of the sales process and I think it will remain so for a very long time."
It was not only online sales that Fully Charged developed during the various COVID lockdowns, the team also put other initiatives in place to promote the brand to a much wider audience than just cyclists while making use of unused demo bikes.
"We ran an incredibly successful campaign around May 2020, during the first lockdown, for the NHS. We quickly realised that because all of the suppliers had closed down and no reps were on the road all of the demo bikes used by them and for various test rides and expos were just sitting around. As a result, some very generous suppliers, including GoCycle, Raleigh and others essentially donated bikes to us that were otherwise not being used and we put those in the hands of the NHS. That was an enormous PR boost for us, especially away from the traditional cycling media. We got coverage in the mainstream press while helping those who really needed it."
These unconventional ways of working are examples of how Jaconelli and Parsons are willing and able to look at other retail models and adapt those ideas to the eBike sector. This willingness to work differently can clearly be seen in the way in which it has been used to grow the electric cargo bike side of the business with regard to B2B sales.
The focus on eCargo bikes began to develop for Fully Charged around three years ago and has quickly grown. "We have gone from around one phone call a month to multiple calls a day now," explains Parsons.
However, in order to reach that point the business has taken onboard automotive fleet sales ideas and concepts. This has meant adjusting to concepts that are alien to regular IBDs, arrangements such as fleet management, supply level agreements, leasing arrangements, service arrangements and more. The payoff for taking on these new ways of working includes having clients like Ocado, Freddy's Flowers, multiple courier companies and consumer brands.
"We have found ourselves working with some unexpected businesses, too, says Parsons, "for example FM Conway the civil engineering and construction group. They have a fleet of eBikes to move things around sites in central London. They also have a cargo eBike we supplied that is fitted with a scanner that checks the road surface to check the condition of the road surface and they are continuing to find other uses for eCargo bikes."
Parson believes that a key driver for the uptake of electric cargo bikes in urban areas was the Energy Saving Trust eCargo bike grant programme. It was first introduced in 2020 and returned in 2021/22 and was essentially a £2.5k grant towards the purchase of a cargo bike for business use.
As Parsons says: "We can call companies up and say park up your van, that is costing you a fortune to run, and which you can't get around London, and we're able or at least the government is able to give you money towards a much more efficient alternative.
"Buy an eCargo bike and it's going to be cheaper to run, more efficient, and give you a greater profit. On an £8k bike there's £1,800 of VAT off straight away and it's 100% tax deductible, then there's £2,500 from the government and then local borough councils are often also offering grants too. "Businesses are paying a pittance for something that is cheaper to run and more efficient than a van. At first, it is like trying to push treacle up a hill and then once they have one [eBike or electric cargo bike] they keep coming back for more."
While Fully Charged has been growing its B2B sales the team has been giving equal amounts of impetus to the consumer side of things too. Once again, the growth of this aspect of the business has seen a move away from traditional bike shop sales techniques and ideas. "To retail eBikes, you have to have different knowledge," stresses Parsons. "With the greatest respect to other shops, the average Saturday boy is just working to earn a bit of cash. They'll be passionate about bikes but are not overly invested in them, in the technical detail of them.
"When people are spending £3,000 plus on an eBike, they want to be dealing with people that are authoritative on the subject, that understand the bikes, that understand the technology. We have tried to create that bubble so that when people visit our stores we've always had the ethos of tell rather than sell. We won't simply push the bike with the biggest margin, or the one that has the best deal on it from the supplier. We sit the customer down and discuss what their needs are. We say 'Let's try and match you with the right eBike for you' and the conversion rate is high, about 70% of the people who walk through the door leave with an eBike."
For Parsons, success is not simply a high conversion rate of shop visitors to sales from the shop floor. His view, which some might consider contentious, is that traditionally IBDs have been hobbyists selling to hobbyists, but that is not the case for Fully Charged
"We are selling to non-cyclists and when it comes to selling eBikes it is about working backwards. It's all about the service and support you're able to supply and then you sell the bike off the back of that. "We are selling eBikes to people who don't even know what a chain is, never mind how to service a bike. These people are not traditional cyclists, but they know that when their BMW needs a service they take it to the dealership and that means that they accept paying a premium to have that work done and it's the same with their eBikes when they bring them to us to be serviced.
"We charge more than a regular cycle shop for the service work we do but then again it takes a lot more to service an eBike correctly. If you're going to undertake electronic diagnostics you need more experienced staff and they can command a higher wage. However, it is a hugely important part of the business and it requires a lot of investment, but it is the part that inspires most of the sales."
This last point is even more important with the business' commercial partnerships. "When it comes to business clients they are not buying from a 'bike shop' as such. We have six eBike repair stands, and two electric cargo bike stands and that is not typical for a regular bike shop where the workshop is hidden away in the back corner of the store taking up as little space as possible. In the case of Fully Charged in London the space it occupies is 10,500 sq ft across the two premises; the consumer/lifestyle-focused store on Crucifix Lane and the recently added cargo bike sales, service area and warehousing on Holyrood Street.
London is no longer the only location for Fully Charged stores either as the operation has grown to include showrooms in Guildford, Silverstone and Cornwall. They are referred to by Parsons as "partner stores run by individuals on a sort of franchise basis, but not as a franchise".
"The people who operate them run them as their own businesses and as such are very incentivised to do well. But at the same time, they get the benefits of being a part of the Fully Charged operation; the expertise, the supply relationships, inventory, pre-orders etc.," notes Parsons. He then goes on to explain that they are a mixture of existing shops that have wanted to make the move to become specialist eBike retailers and people coming into the business from other industries.
Talking about how the Fully Charged brand has grown to include additional stores Parsons says: "We can say to people 'you might be reluctant to sell eBikes or perhaps it's not working for you because you've only got a couple of brands and they are not the right brands. But if you join us, we will look after you. Do as we say with these brands and it will work'. It is working and the stores are getting really high turnovers that would otherwise have taken years for them to reach.
"We have proven this model with a rebranding of an existing eBike store and also with someone from outside of the trade who previously had an IT background. The Cornish store is a case in point of how we can develop a business. It was originally more of a base for supplying home test rides rather than a big shiny store, but it's been so successful that it is now going to expand to more of a regular retail store."
Growth is very much on the cards closer to home too as Parsons says: "We are looking to open another store in London – an experiential centre." Discussions are already underway to make this a reality in West London and if all goes to plan that third London location will be operational before the end of the year.
There are also plans to expand the service capabilities in the railway arches that make up the Holyrood Street unit. To do this the plan is to move the warehousing and stock storage outside of London. As Parsons says: "It doesn't make any sense keeping it here when floor space is so expensive and it will allow us to open up to more business to business."
Currently Fully Charged's sales are split equally between eBikes and eCargo bikes and then breaking that down further, the sales of electric cargo bikes are split 50:50 between personal consumers and commercial clients. However, Parson is confident that those numbers will change very quickly in favour of commercial sales, noting with some satisfaction that Amazon has announced that it intends to stop using vans and switch to electric transport.
"When that happens it will be a seismic shift for the industry, where Amazon leads everyone else has to follow." When the change happens Fully Charged will be ready and waiting.


https://cyclingindustry.news/fully-charged-talks-flipping-the-traditional-bike-shop-model/ Fully Charged talks flipping the traditional bike shop model