Aviation
Etihad Boeing 787 in business class from Abu Dhabi to London Heathrow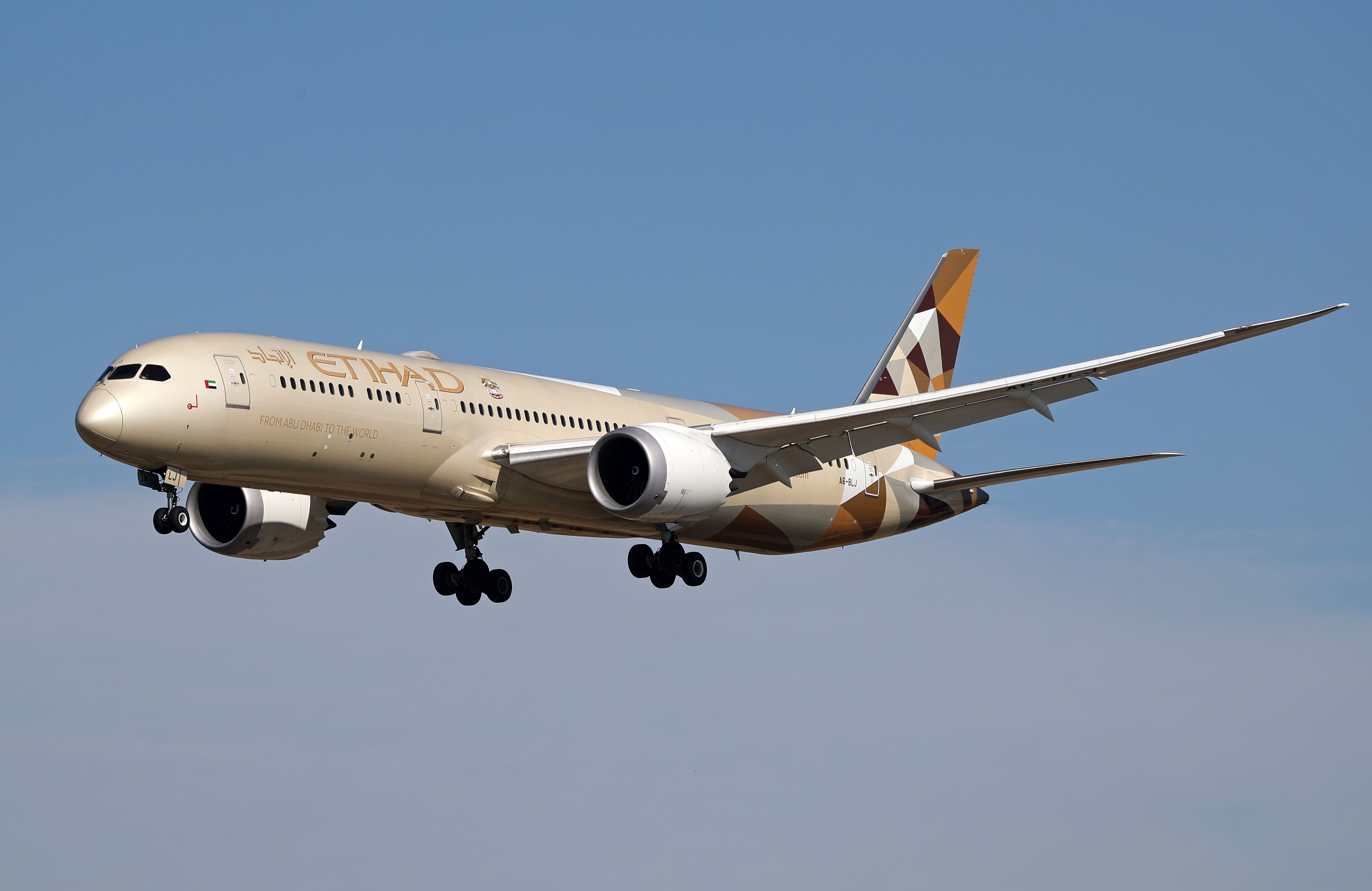 I took a short trip to Abu Dhabi with Etihad at the end of October, flying from London Heathrow to an Airbus A350 and heading back to a Boeing 787 Dreamliner. We have already considered business class experience on the A350 this year. So I decided to take the opportunity to focus on what the 787 has to offer.
On the ground
Before making my way to mine gate in Abu Dhabi International AirportI made sure I took the time to visit Etihad Business Class recreation room, which was just a few minutes from the gate in Terminal 3. Warning – I don't recommend taking pictures of the concourse from the outside. The security guard was annoyed when I took the photo below on my phone and asked a series of questions before calling a colleague to give the green light.
Photo: Sumit Singh | Simple flight
However, once inside the living room, it was peaceful and quiet. The staff inside were more than willing to accommodate me, even offering to take my photo to mark the occasion. I'll talk more about the lounge in the next article, but I'm glad I had the chance to have a turkey bacon and eggs breakfast before heading to the plane.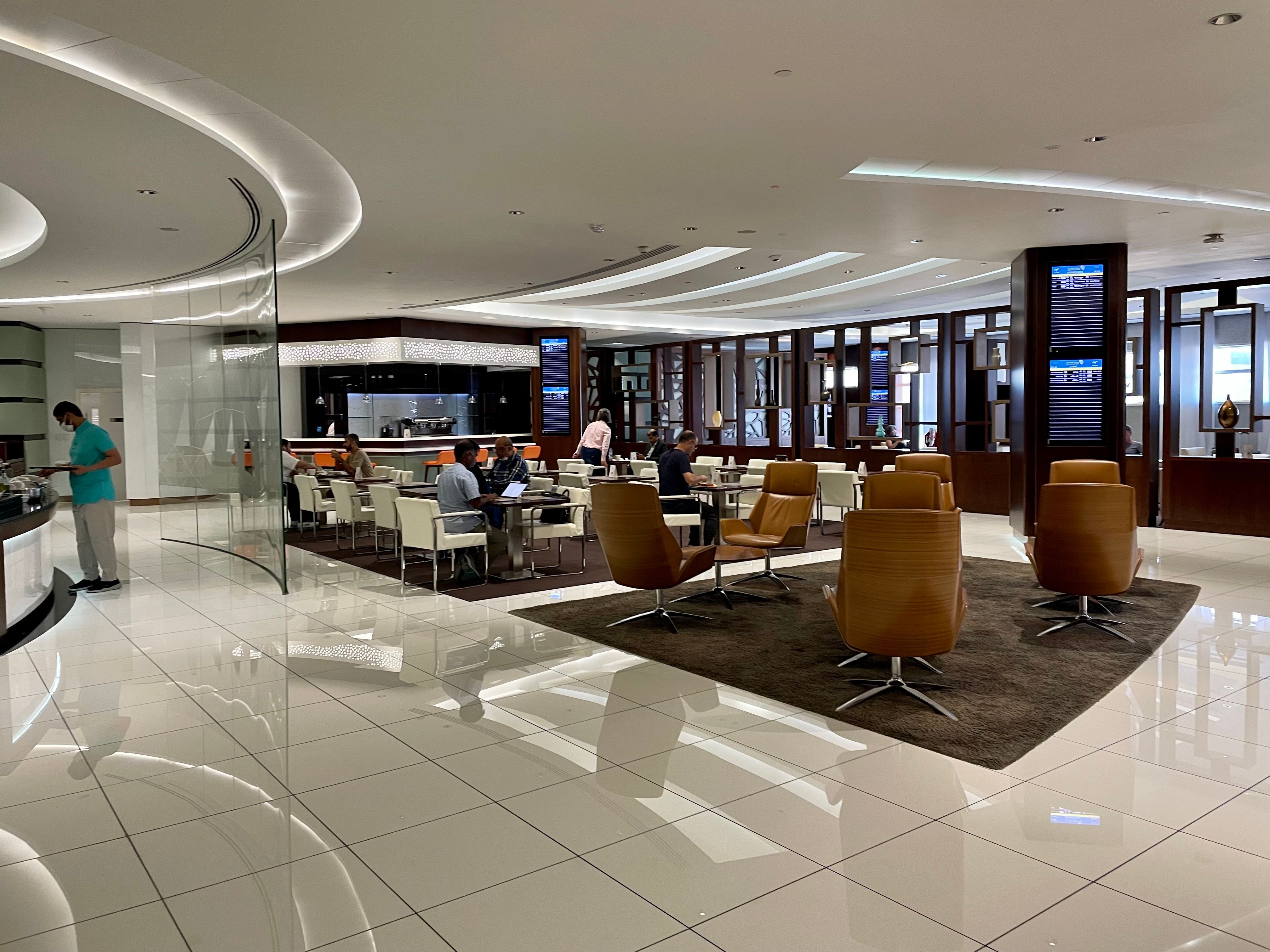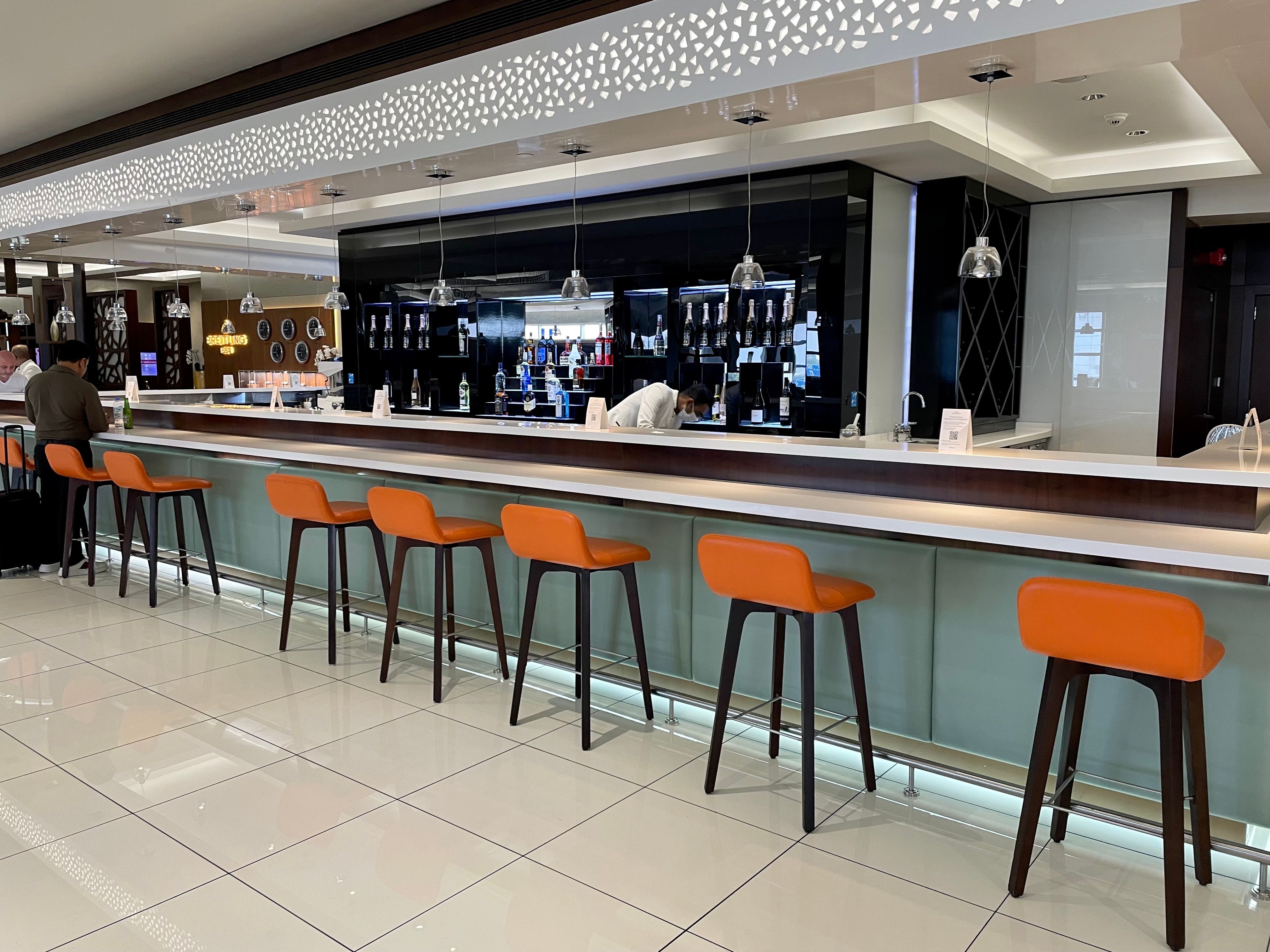 Gathering my strength, I made my way to the gate, where I was stopped by a second checkpoint who went through all my belongings. I understand the need to double the security. However, this inspection was much more thorough than the normal customs security process. The workers went through both of my bags by physically looking inside before asking me to turn on my devices for them to check. I was then physically searched and frisked before being scanned for suspicious material.
Overall, I believe this procedure was inappropriate for the goal area. This is something I feel would be better posted elsewhere the terminalmaybe just before the gate lounge because that would have caused a queue to get into the area and I suspect that would have caused some delays due to passengers thinking they had made it to the gate in time only to find themselves through thorough search.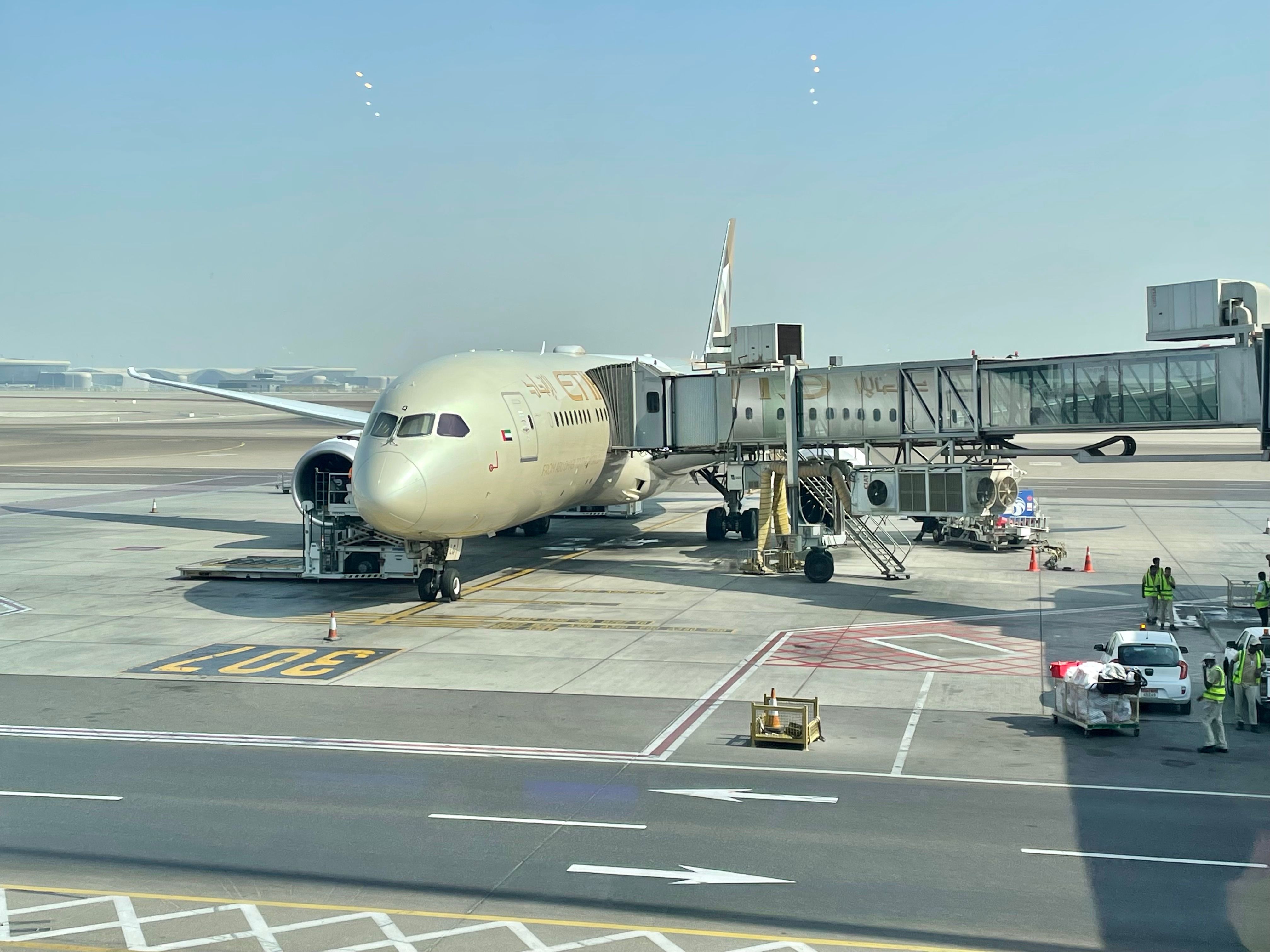 Photo: Sumit Singh | Simple flight
After being searched, I tried to go through the heavily congested seating area that was blocking the boarding gate. There was a slow queue, even for business passengers. The economy line was moving faster than business passengers because there was only one person handling business passengers, causing delays whenever there were requests.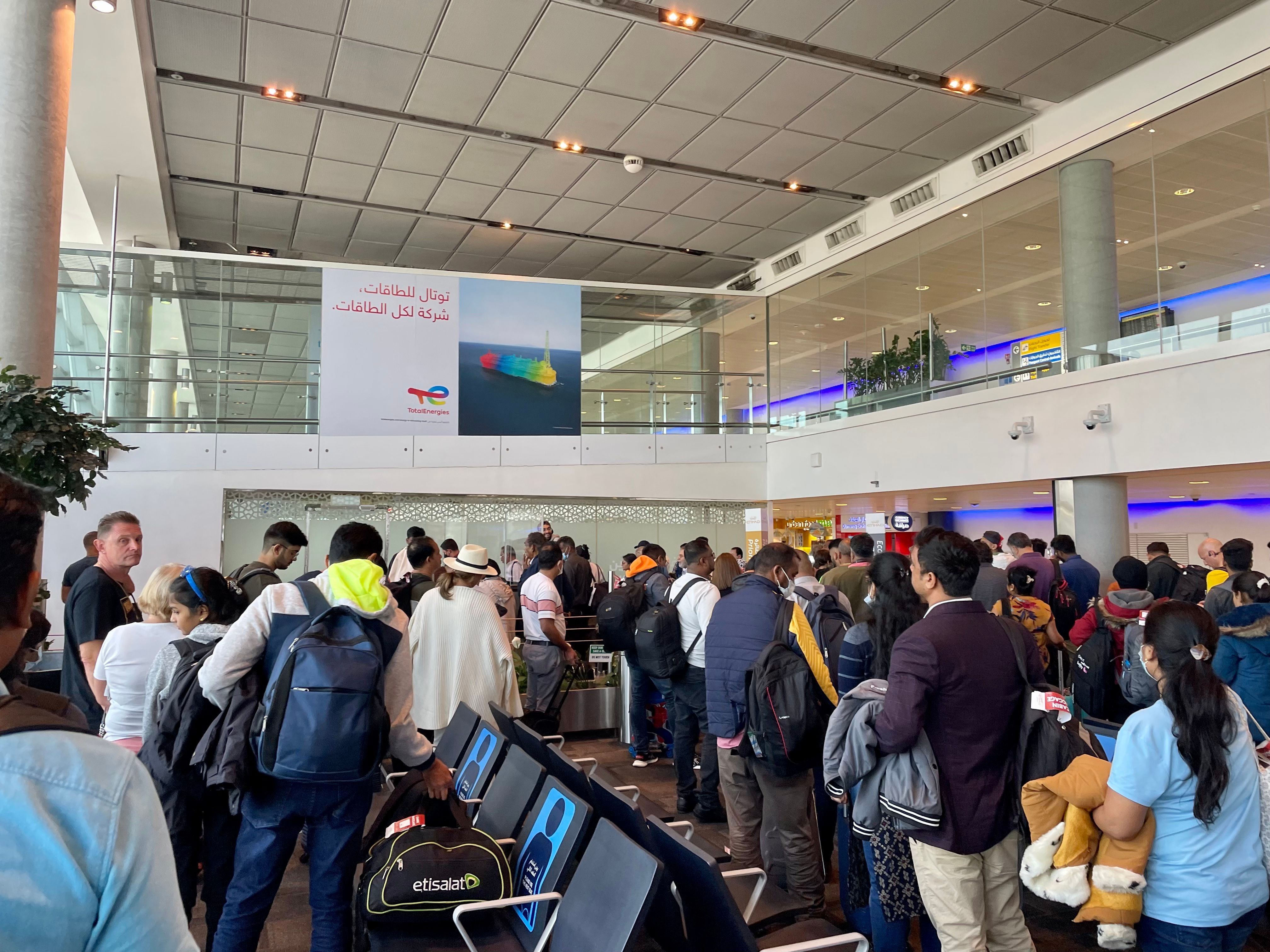 Photo: Sumit Singh | Simple flight
Landing on
The jet bridge was a bit congested, but I didn't expect anything from a popular route. We walked steadily across the bridge to board the widebody. Once on the Dreamliner, the mood changed. I was pleasantly greeted by flight attendant Sarah Spaldi, who was running the business lounge that day. She proudly informed me that she was from Italy and would take care of me during the flight.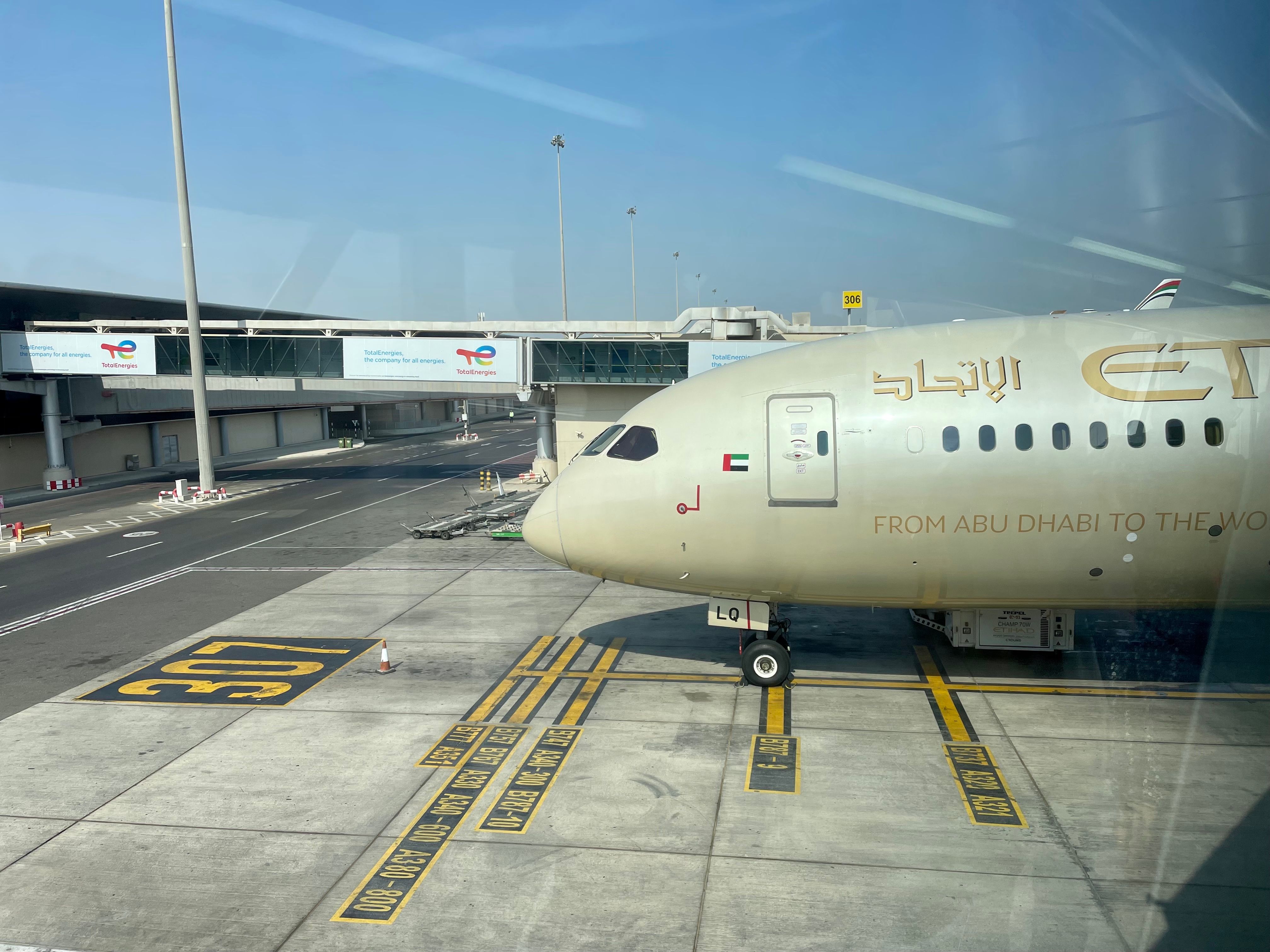 My initial reaction was that there was a lot of space on offer. It was easy to move around and pass other passengers and flight attendants in a 1-2-1 configuration, even while stowing my luggage and preparing my seat.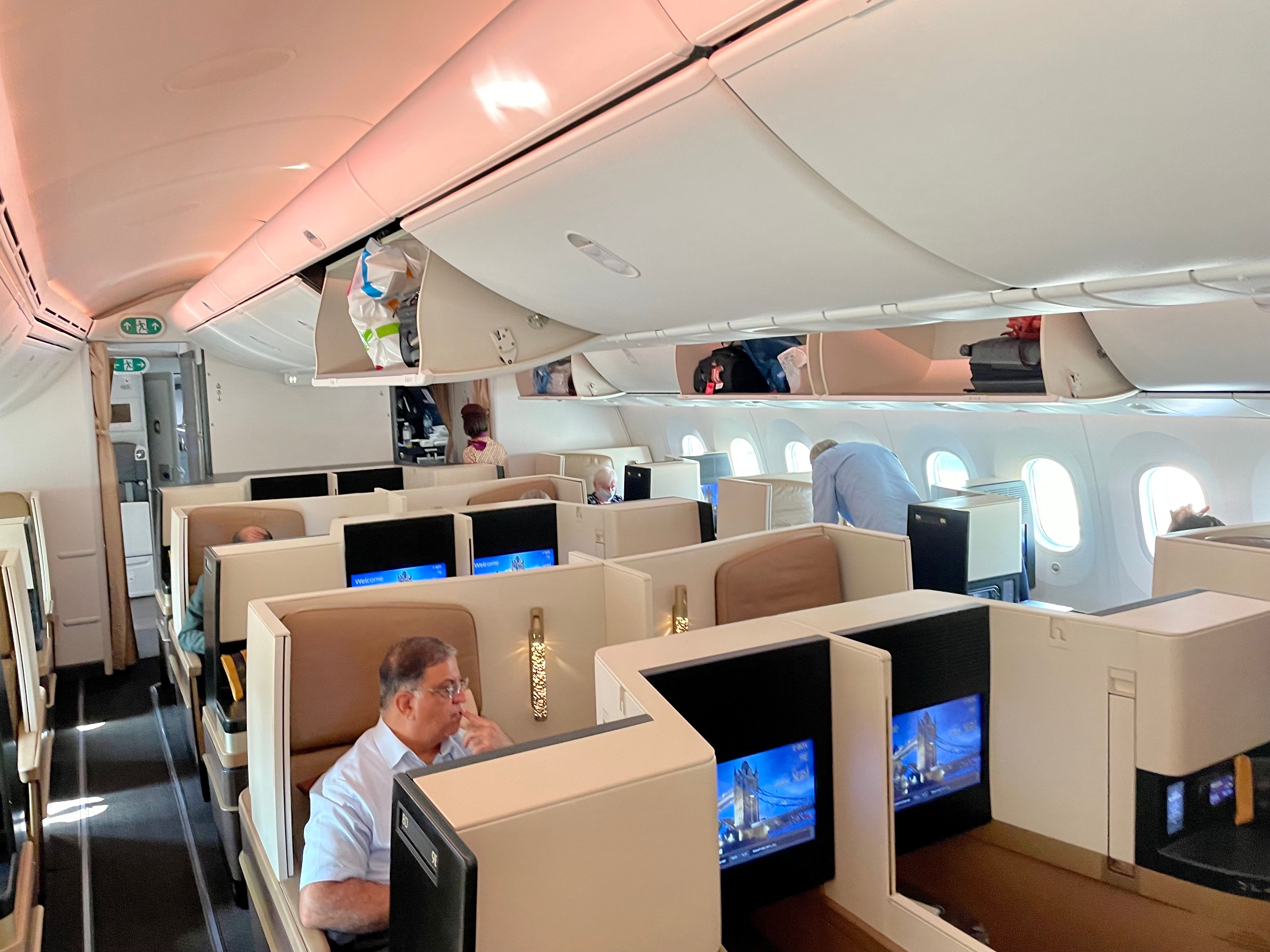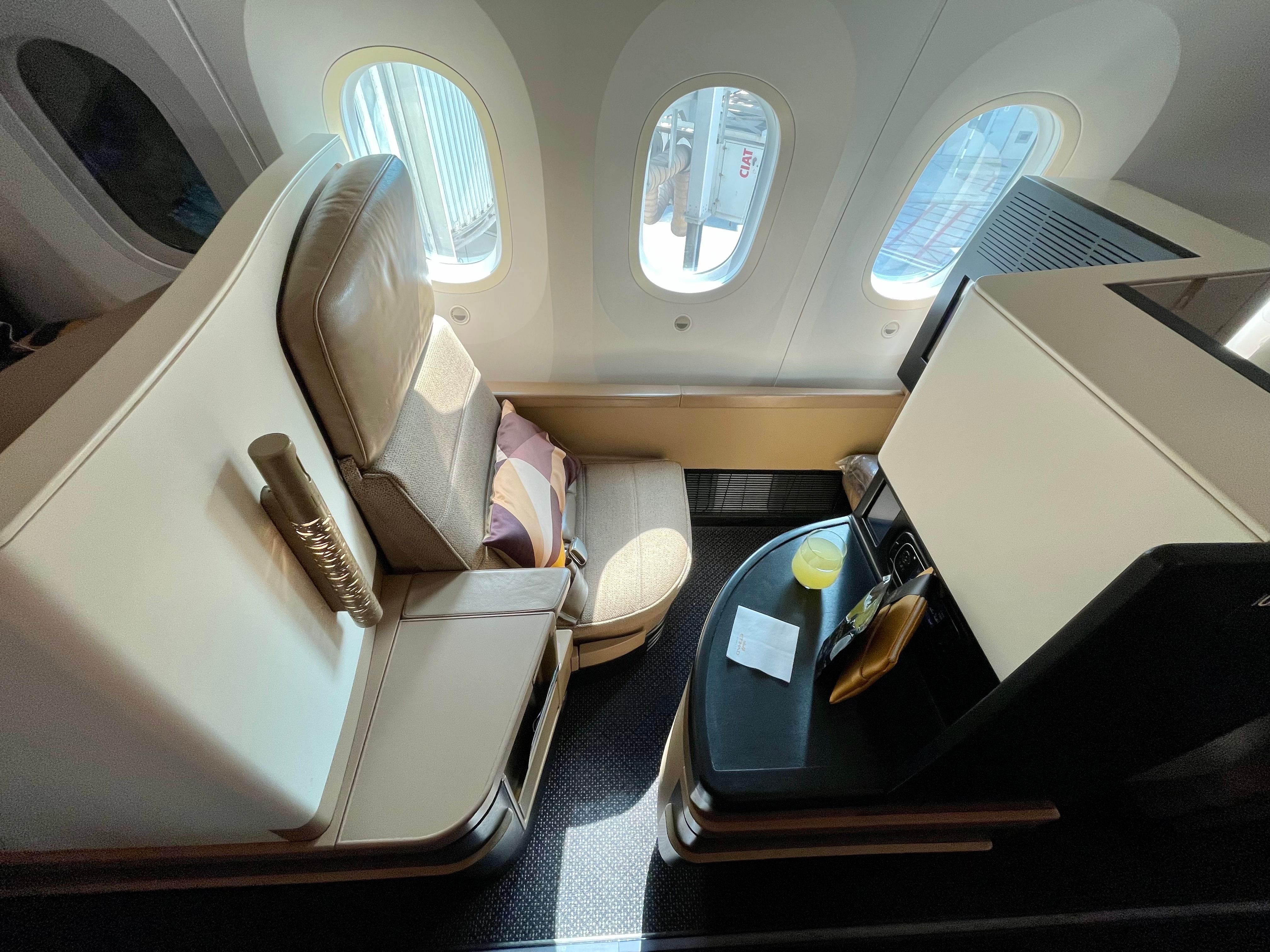 As soon as I checked in, I was offered a drink of choice. My first choice was a cold drink with lemon and mint, which the crew called the airline's signature drink. I have to say it was the most refreshing and delicious drink I've had on a plane. The balance of spiciness and sweetness made for a great start on board.
Flight EY25 was operated by registration A6-BLQ, a 787-9 which joined the Etihad fleet in September 2017. Although the plane was a bit older than the A350 I had flown on when heading to Abu Dhabi, it still felt fresh. After all, it was only produced five years ago.
The aircraft departed from Abu Dhabi at 10:38 GST. The flight attendants made sure that the glasses and other items that told us that we were going to fly soon did not wobble during the departure. Overall, the taxi and take off went smoothly, with fantastic views of the coast as you headed towards the sea.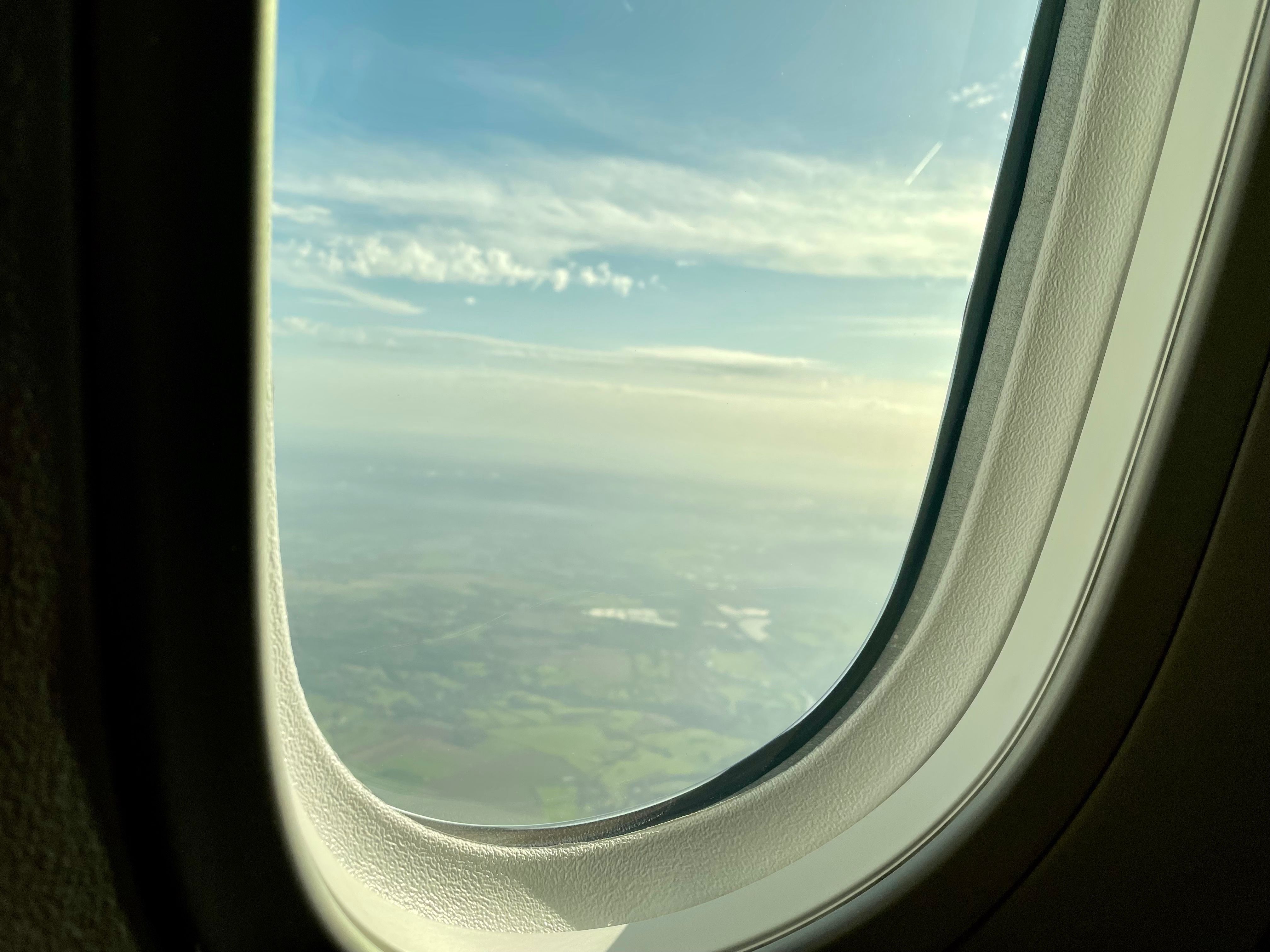 Photo: Sumit Singh | Simple flight
Time to eat
The cabin crew offered a choice of either serving food immediately upon departure or waiting until later. I really wanted to eat first so I could sit and rest. Afterward, the first meal was served on a tray that pulls out from the side panel next to the IFE screen.
It is important to note that I am gluten intolerant, so my food will be different from what is on the standard menu. Over the years, I've had some surprises in this area, with some airlines not knowing what to offer and others calling.
I'm not too fussy myself, but I think about those who regularly fly business class and expect premium service only to get something with minimal effort.
Fortunately, Etihad's offerings come out on top in this department. The salad starter was accompanied by a pile of hummus, which is one of my favorite vegetarian options. Seriously, I could eat a whole bowl of hummus by itself. Today I could taste the freshness that was reinforced by the rest of the salad.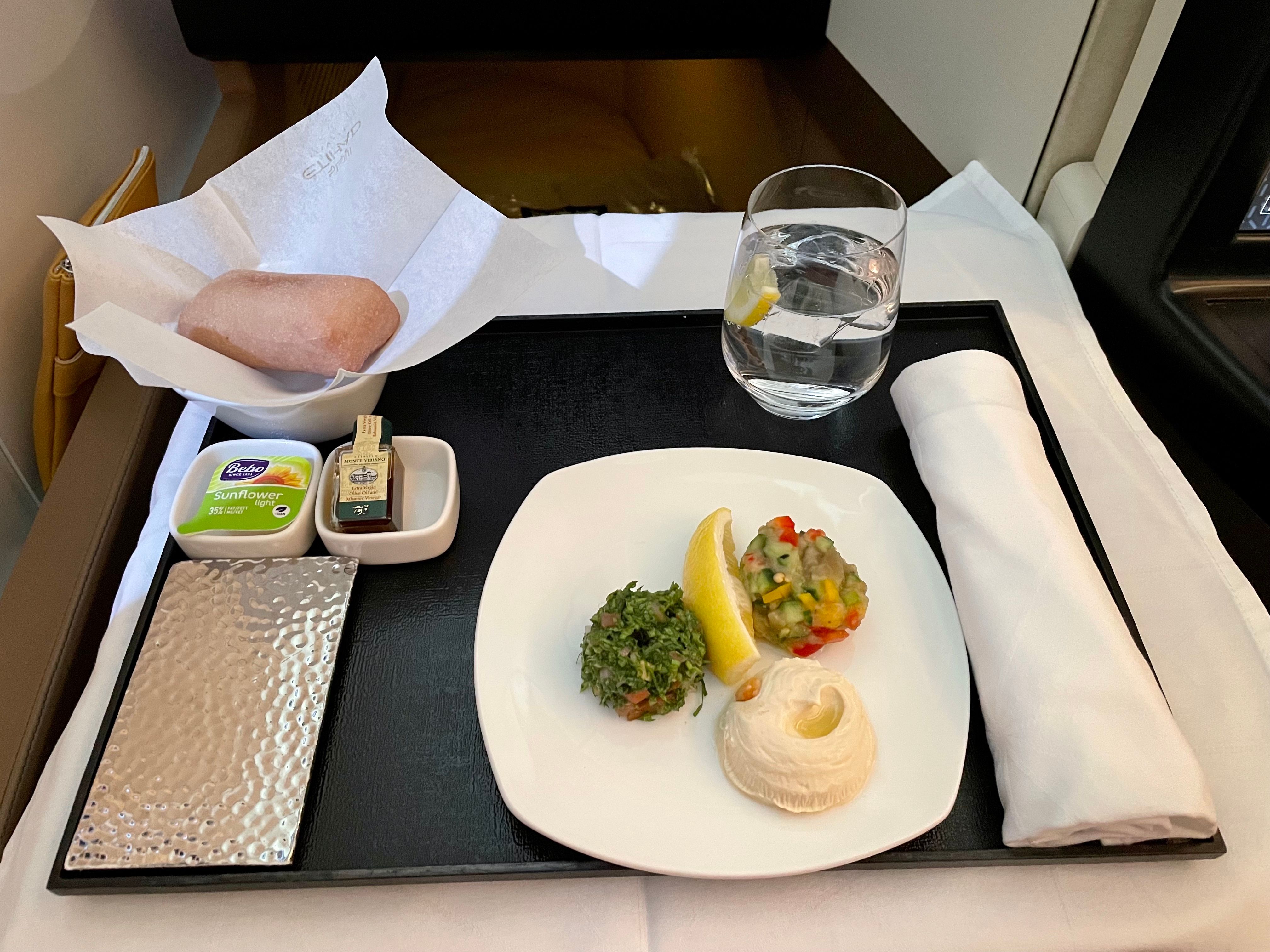 Photo: Sumit Singh | Simple flight
Chicken, vegetables and boiled potatoes were served for the main course. Admittedly, the chicken was a bit dry at first. However, it was nothing that a little Tabasco sauce, which was soon dispensed with a bit of mustard, couldn't fix.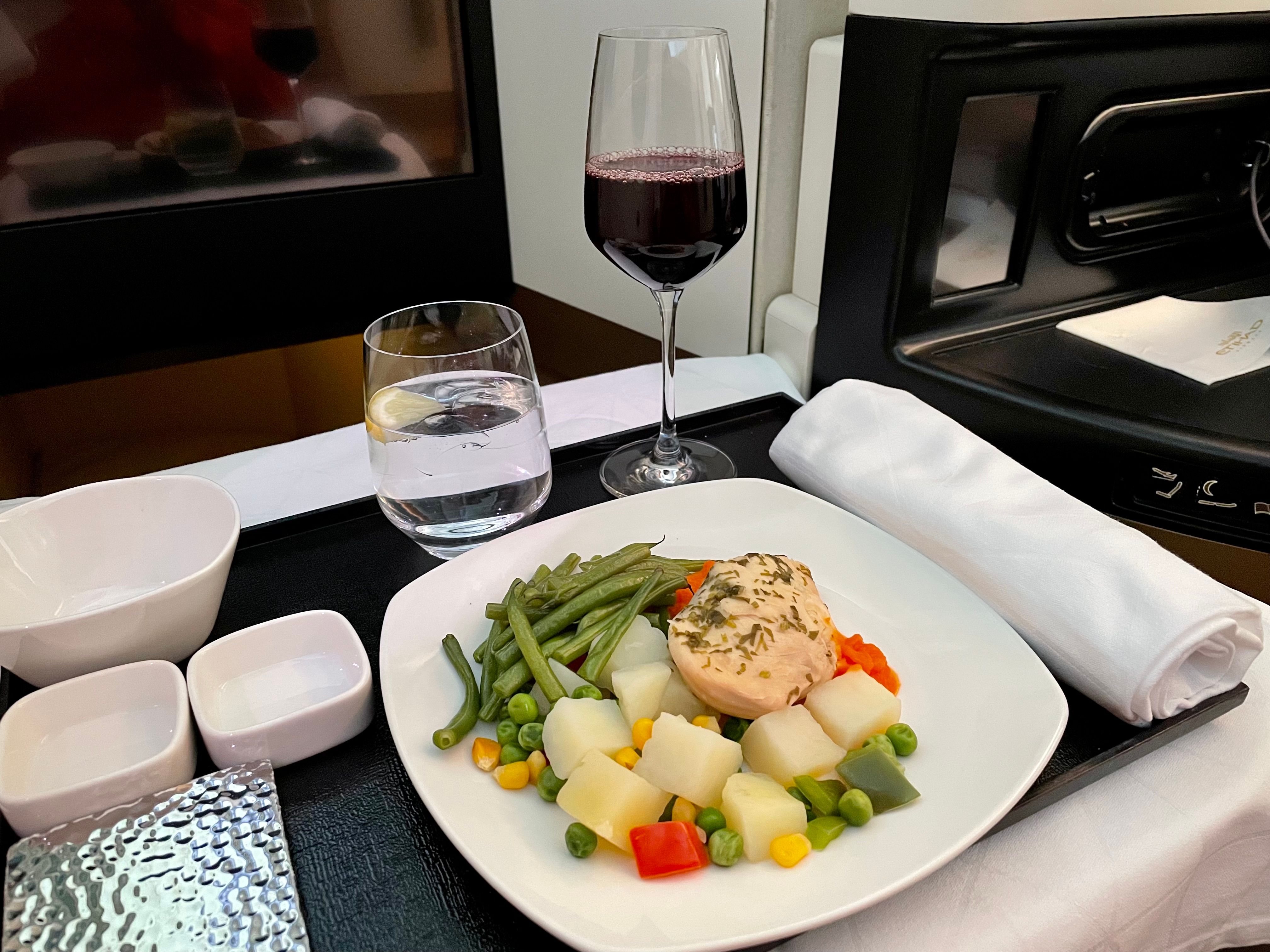 Photo: Sumit Singh | Simple flight
Sarah explained that the team usually provides bread with the main meal, but there was no alternative option today. I was given a lot of gluten free bread on the way out but I guess they forgot to pack it for the return.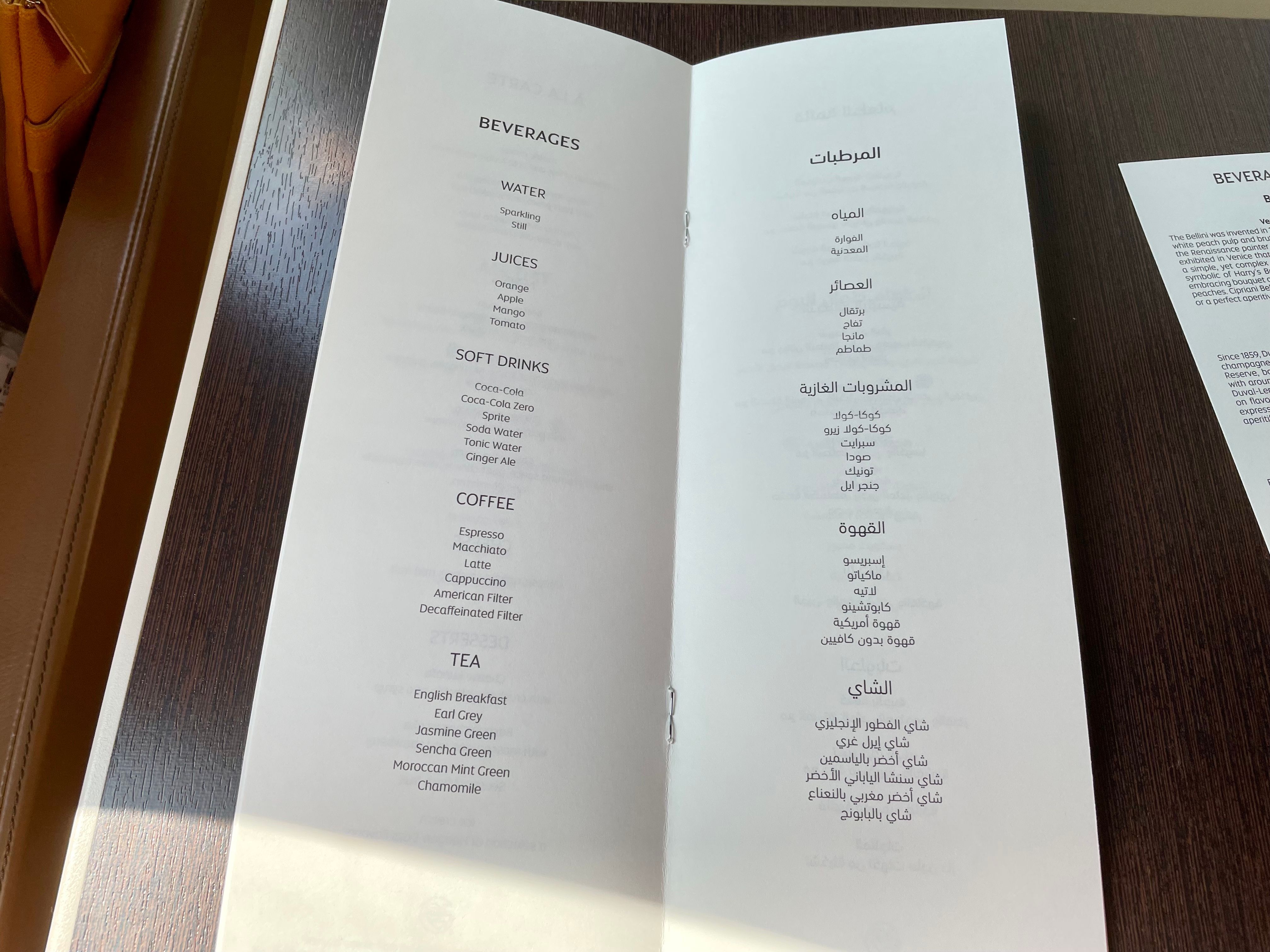 Photo: Sumit Singh | Simple flight
The red wine went well with the chicken, helping me unwind after a busy few days. I also tried a white dessert wine to round off the meal, which I chose as a substitute for the fruit plate I was offered. I bet that wine was as sweet as the fruit I would drink.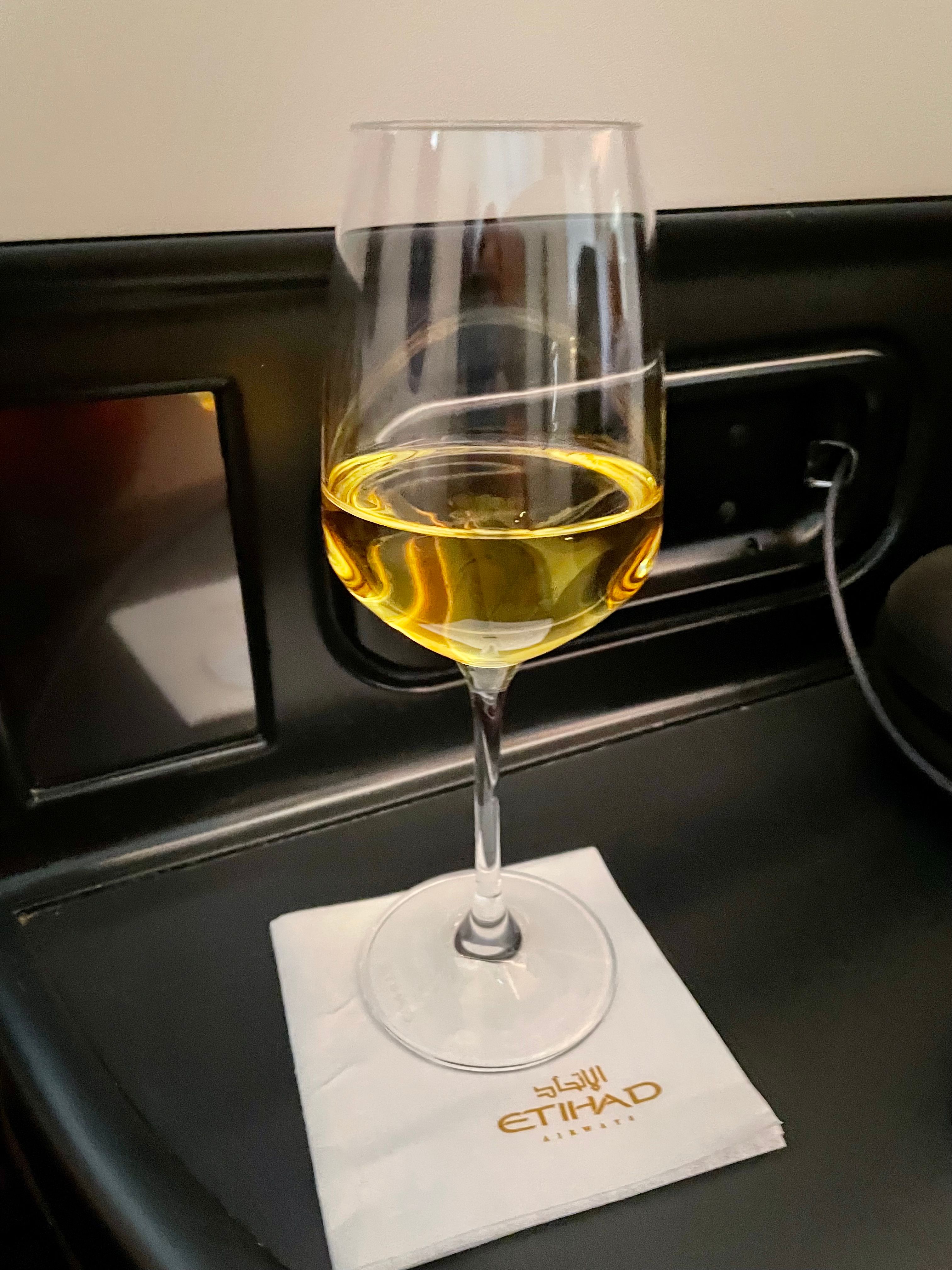 Photo: Sumit Singh | Simple flight
A moment to study
It's time to rate the seat. Warm accents along the interior are complemented by atmospheric lighting, especially in the form of a local side lamp. This lamp provides several different lightning strengths at the push of a button and can be completely turned off. No matter what tone is set, it won't be too loud for other guests.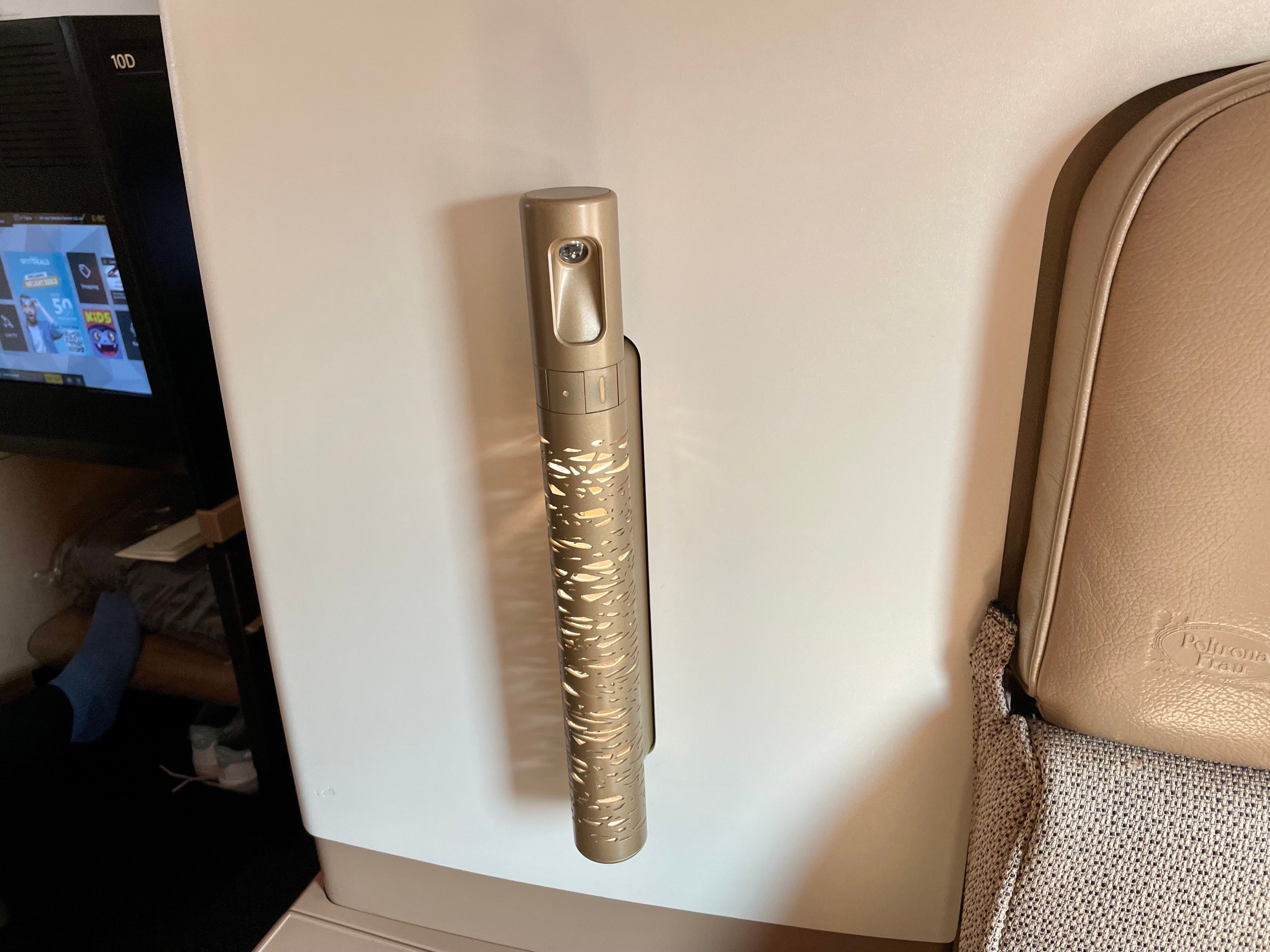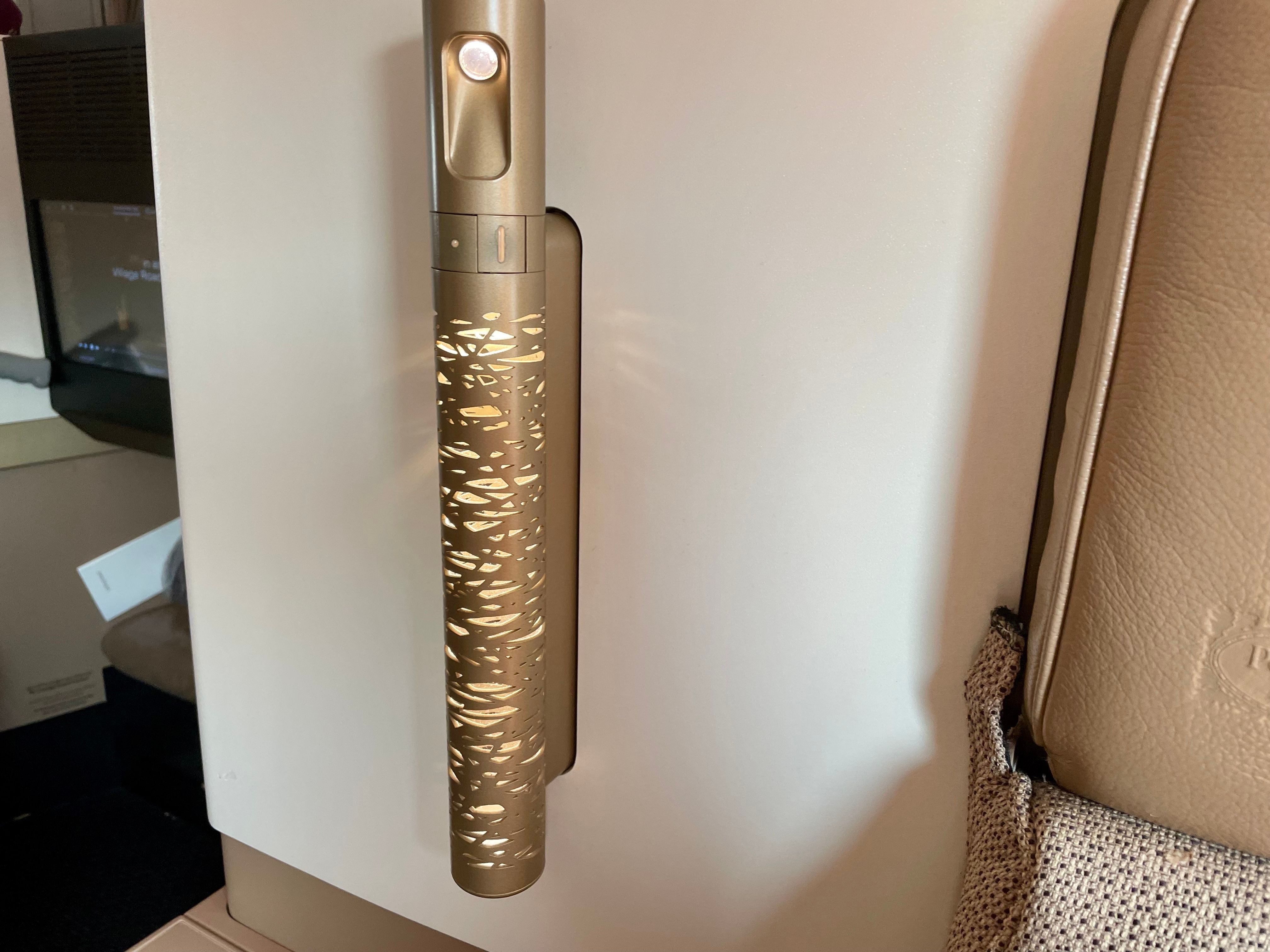 I used the lamp to provide enough light to see what was in the bags that were on the table. There is a post-Covid travel kit that includes an alcohol gel, two wipes, and a face mask.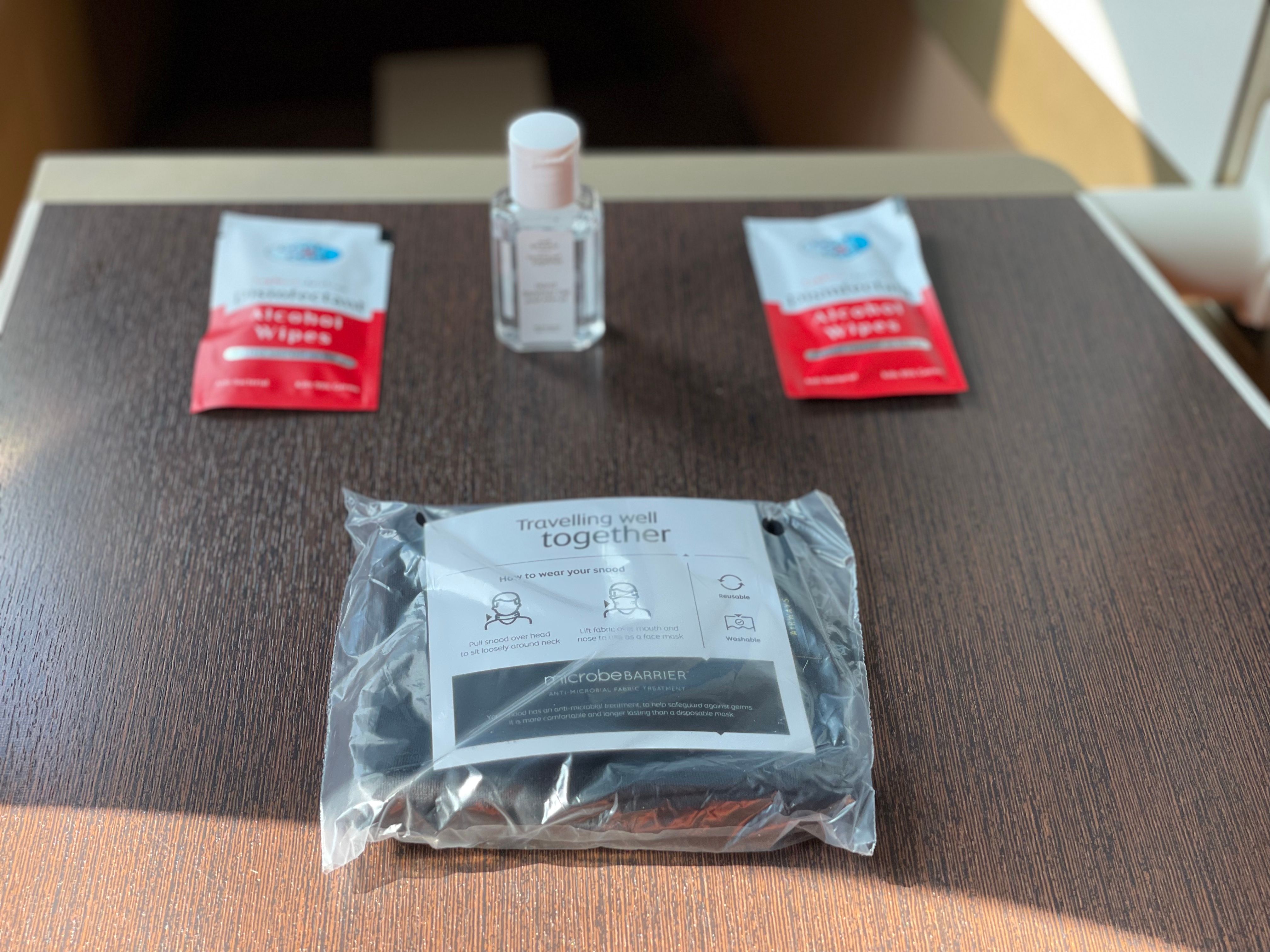 Photo: Sumit Singh | Simple flight
I was more interested to see what Acqua di Parma included. The Italian lifestyle and fashion class fits perfectly, but inside the bag are only two small products from the brand – a moisturizer and a spray sample. They were accompanied by an eye mask and a dental kit.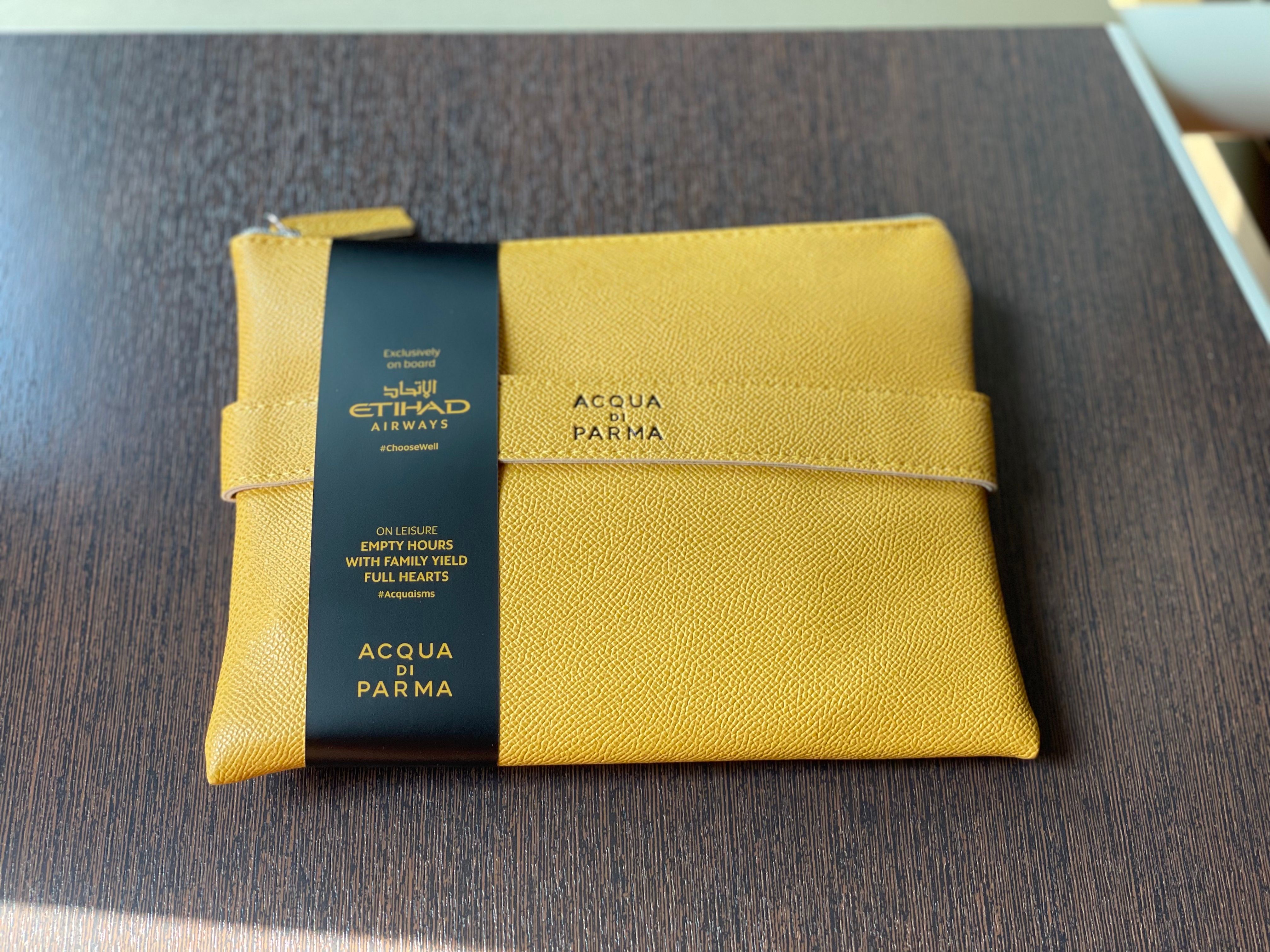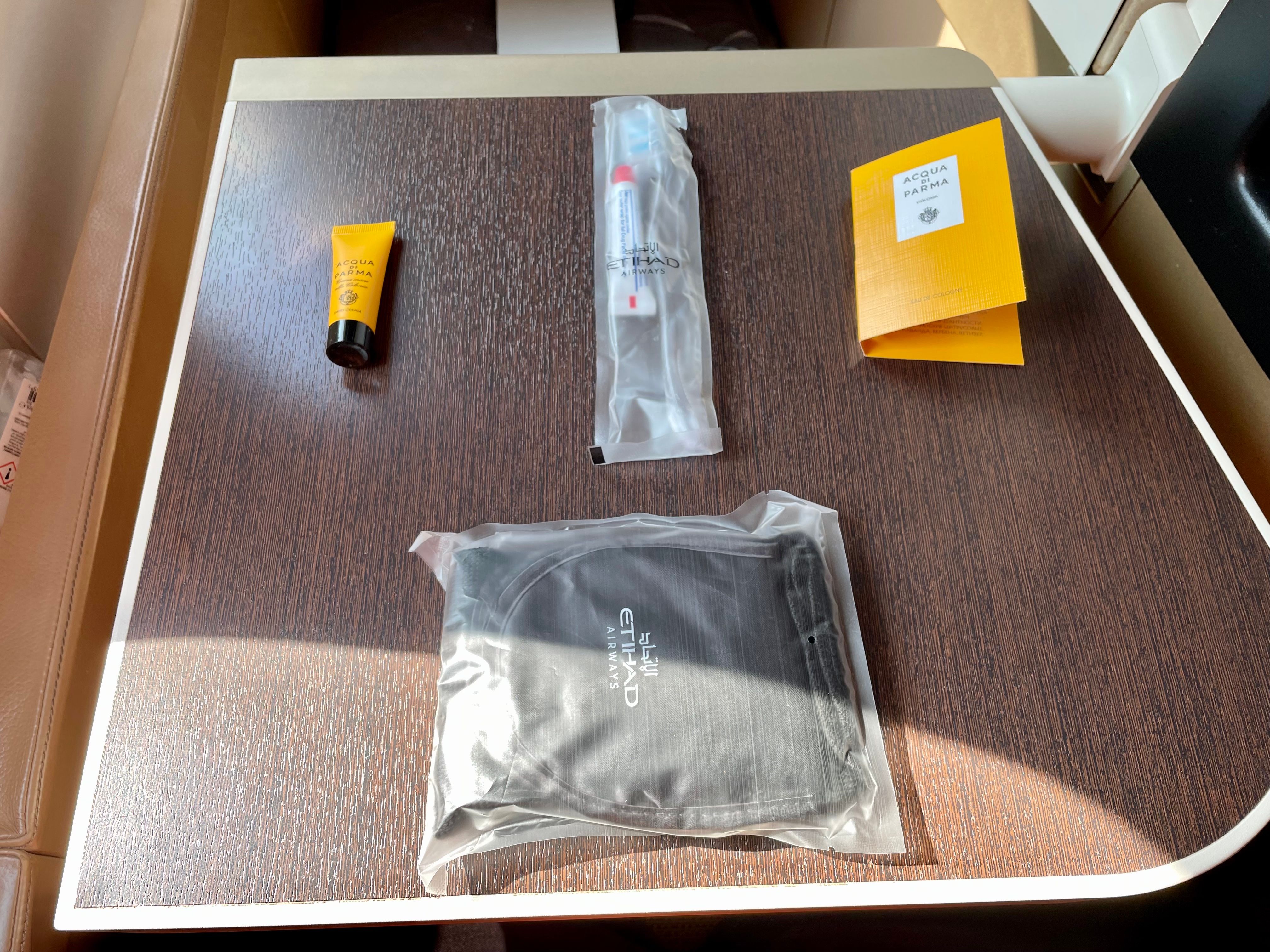 I put all the items in the side storage drawer where the headphones were found. These headphones were plugged into the storage port, meaning there were no awkward wires on my body, even though they weren't wireless headsets.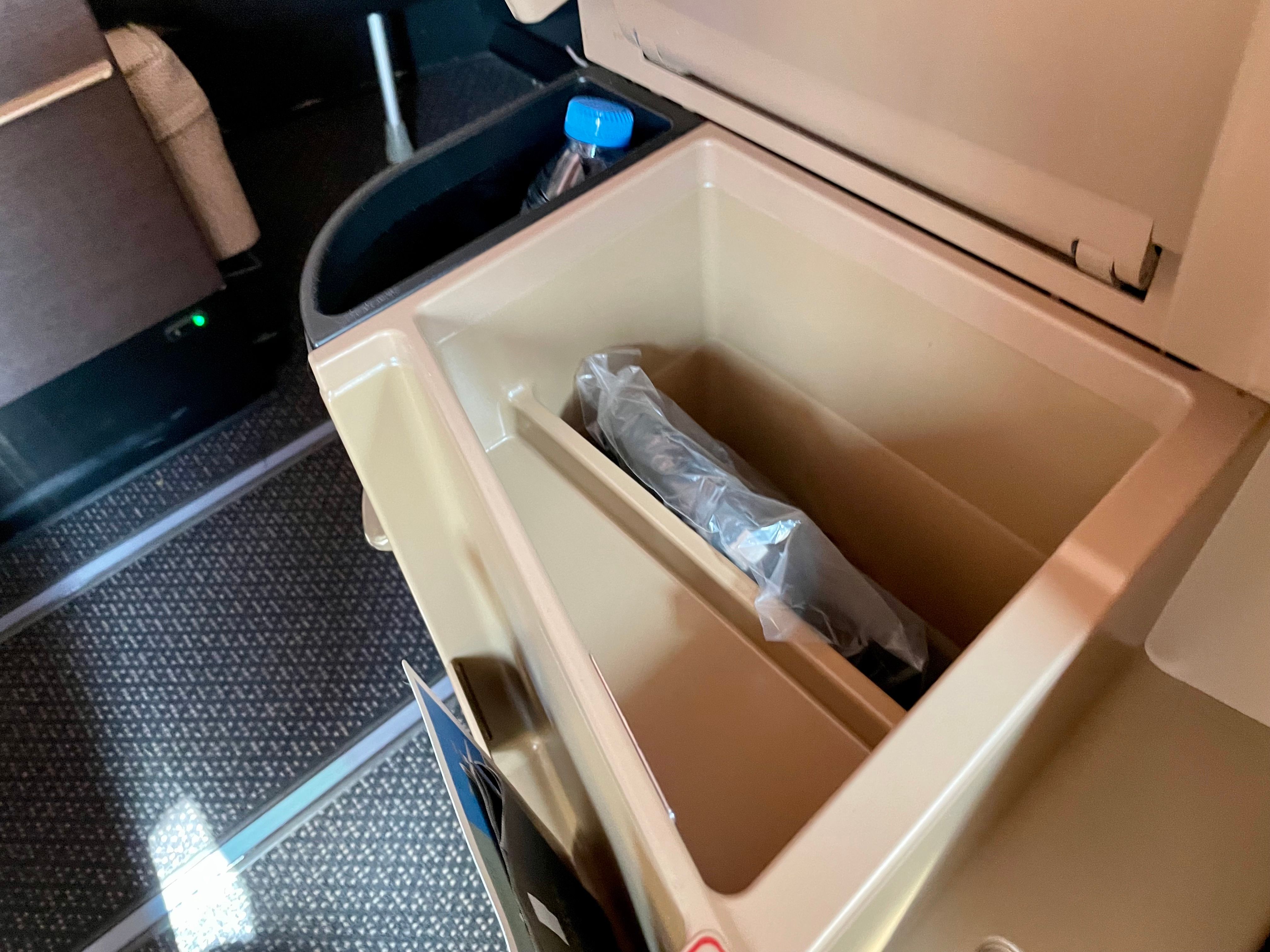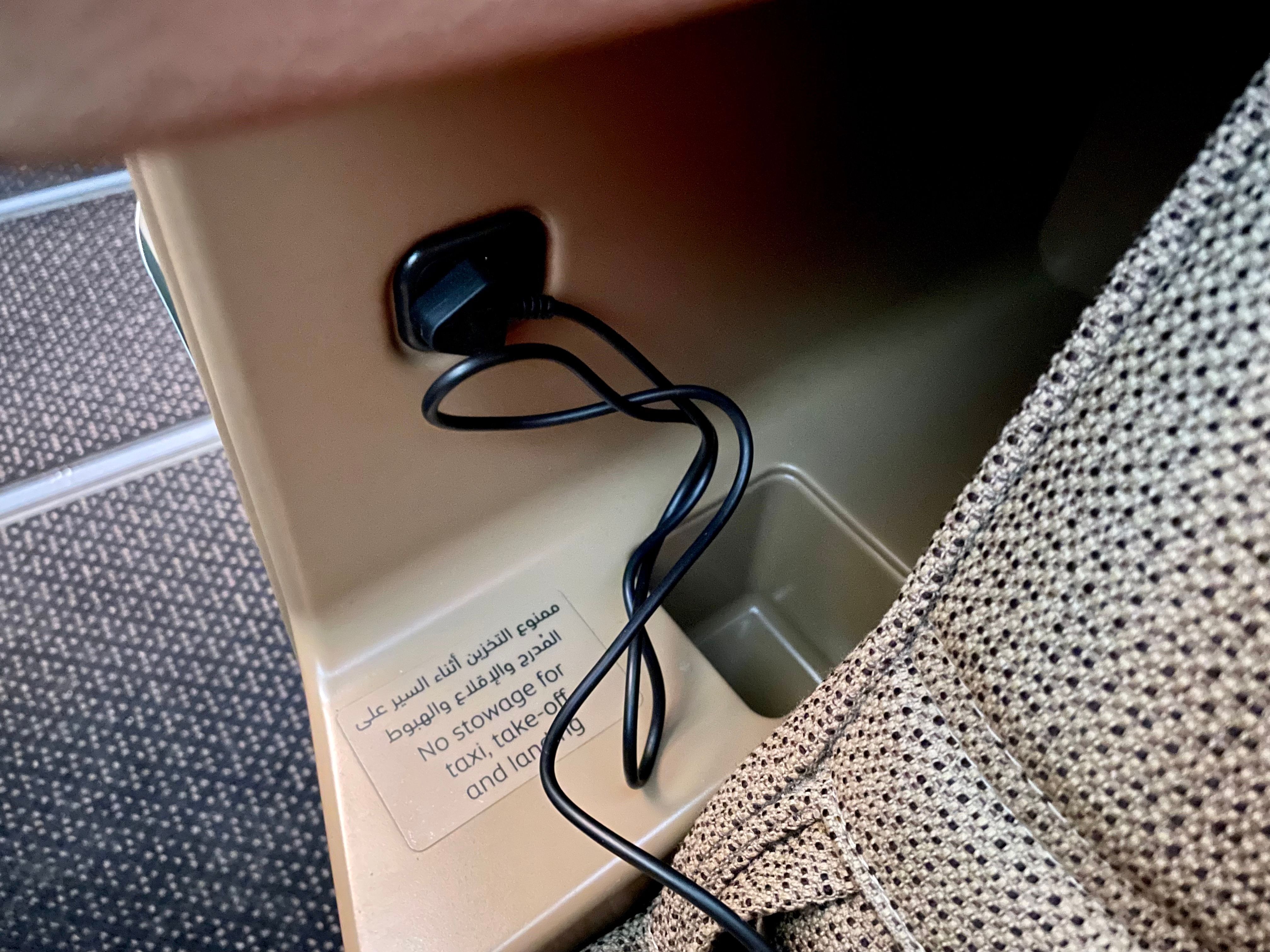 Catching some closed eyes
I quickly switched to prone mode by pressing a button with the side controls before watching Bad Times at the El Royale on the IFE screen.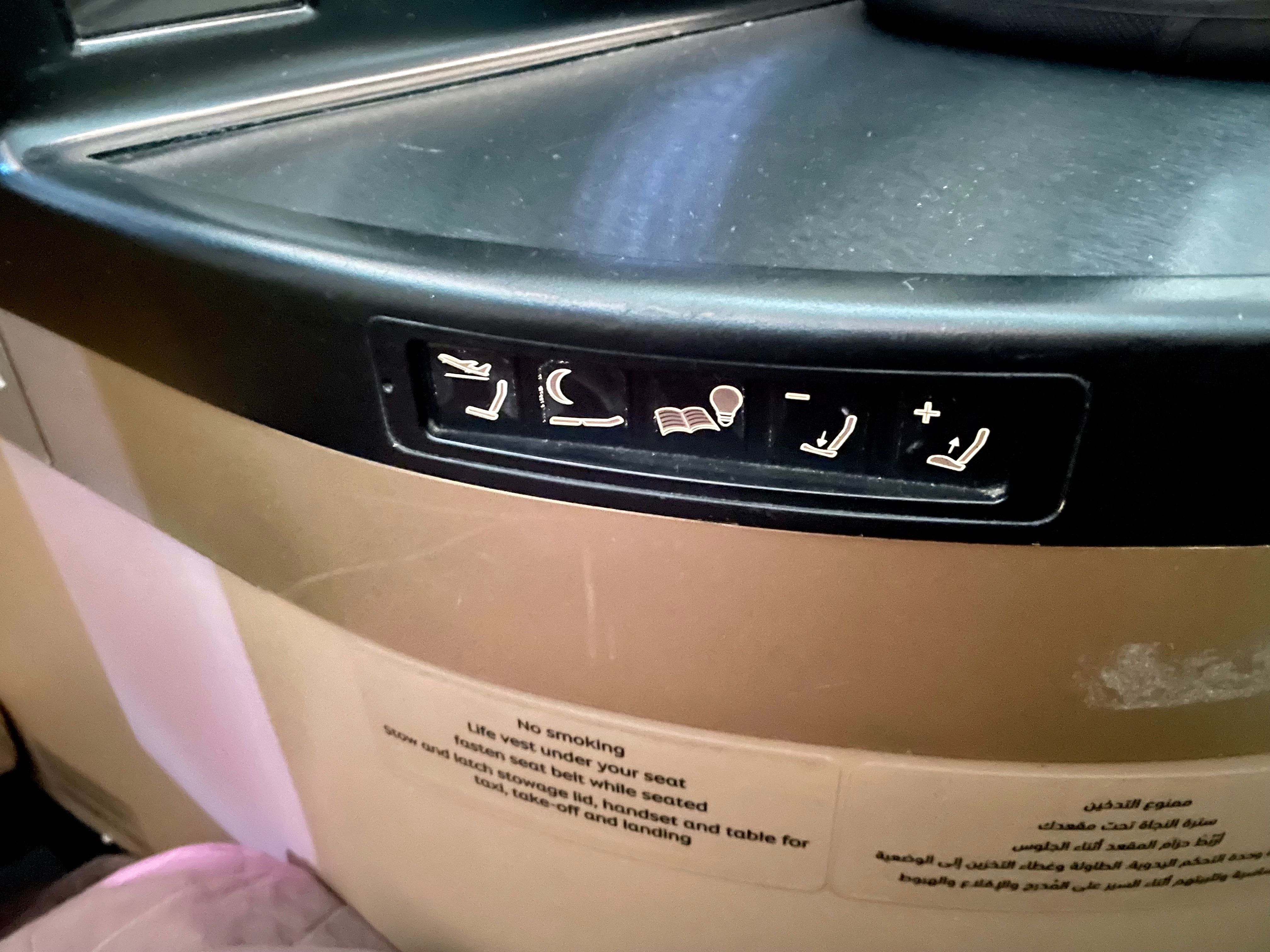 Photo: Sumit Singh | Simple flight
In the flat position, the screen is a little further away, but the touch control solves this problem.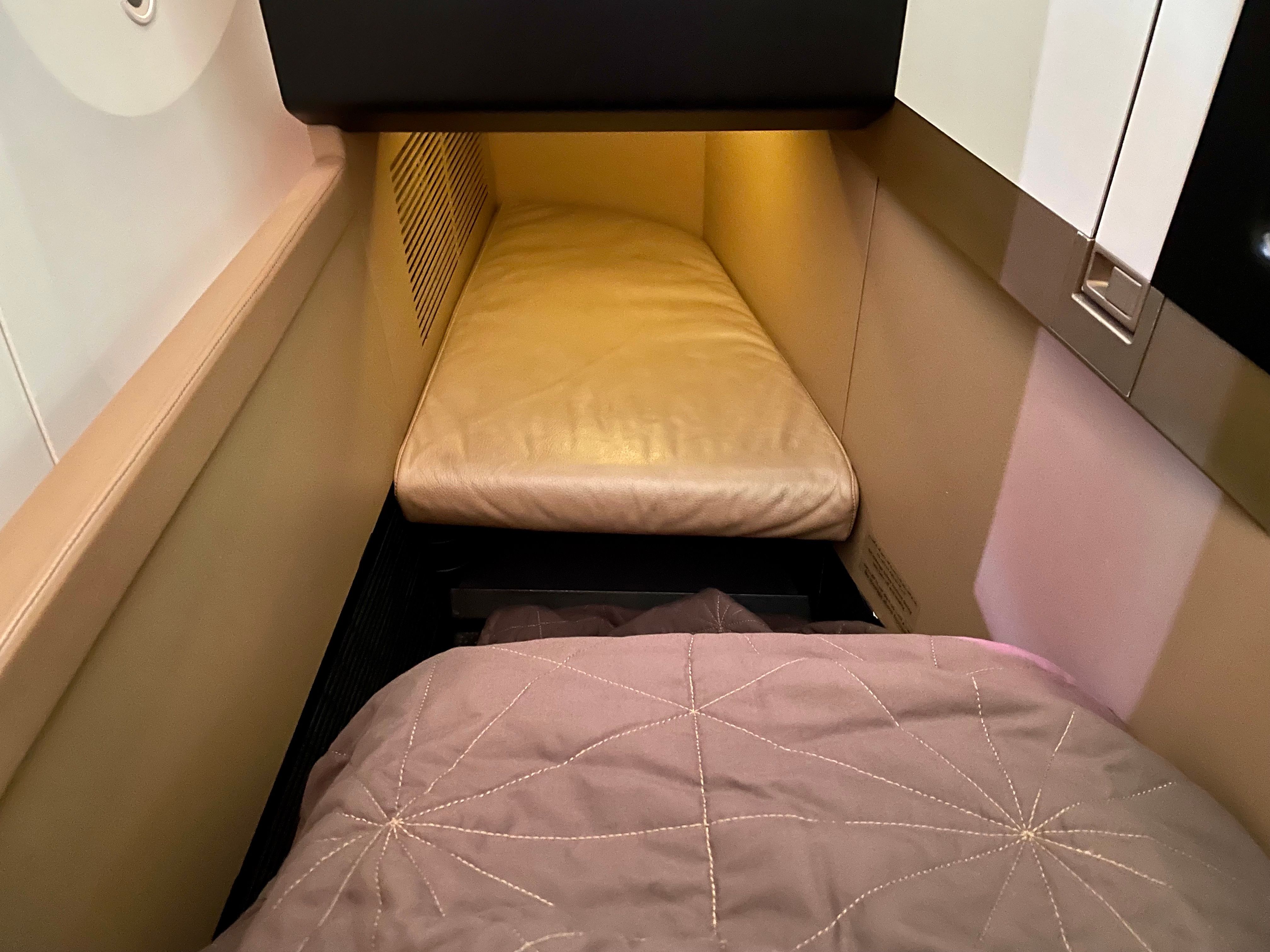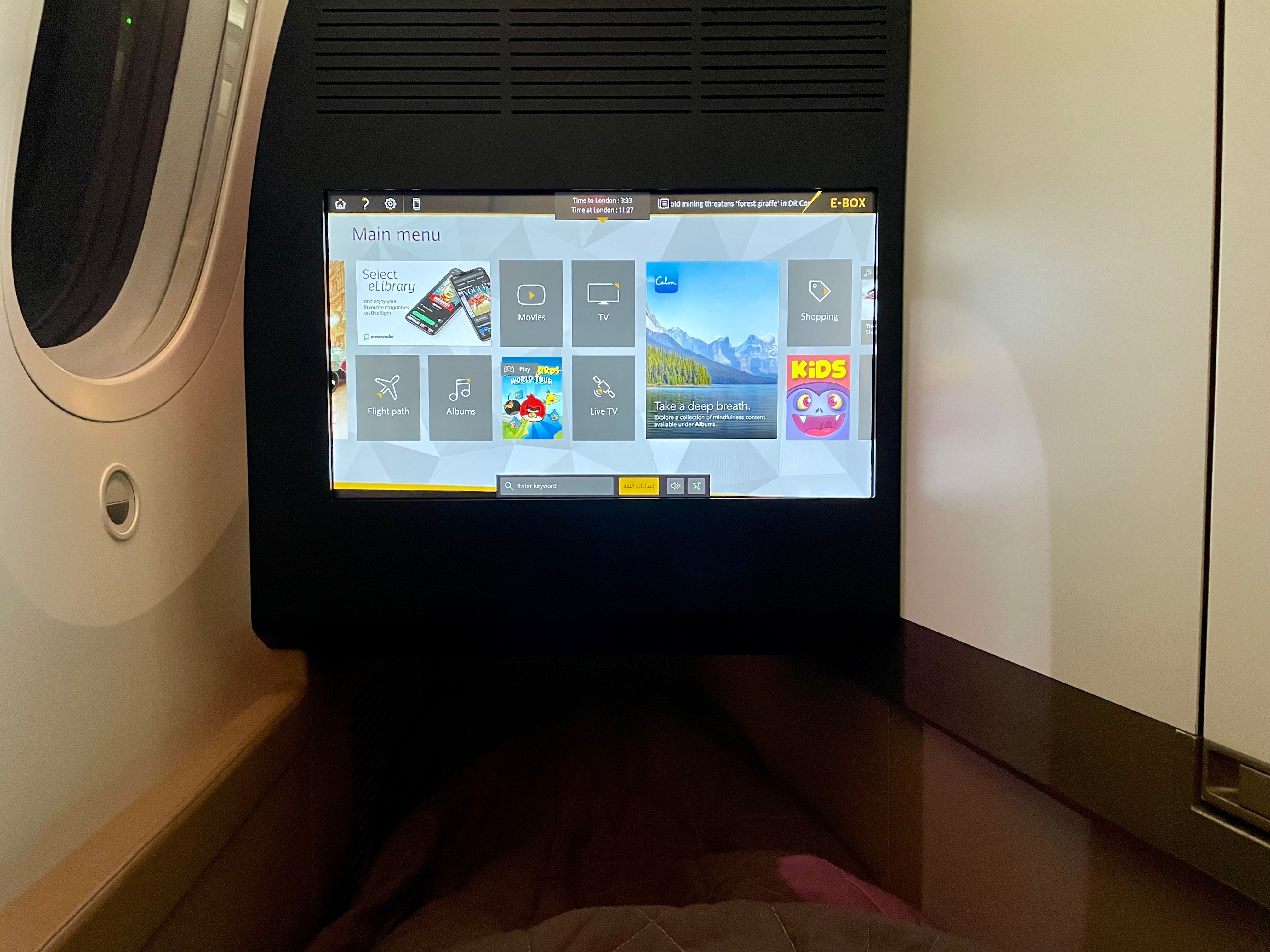 This was probably the easiest controller to navigate that I've dealt with while flying, as the others are too fiddly. Here, it was easy to select, pause, and mute the content I was viewing.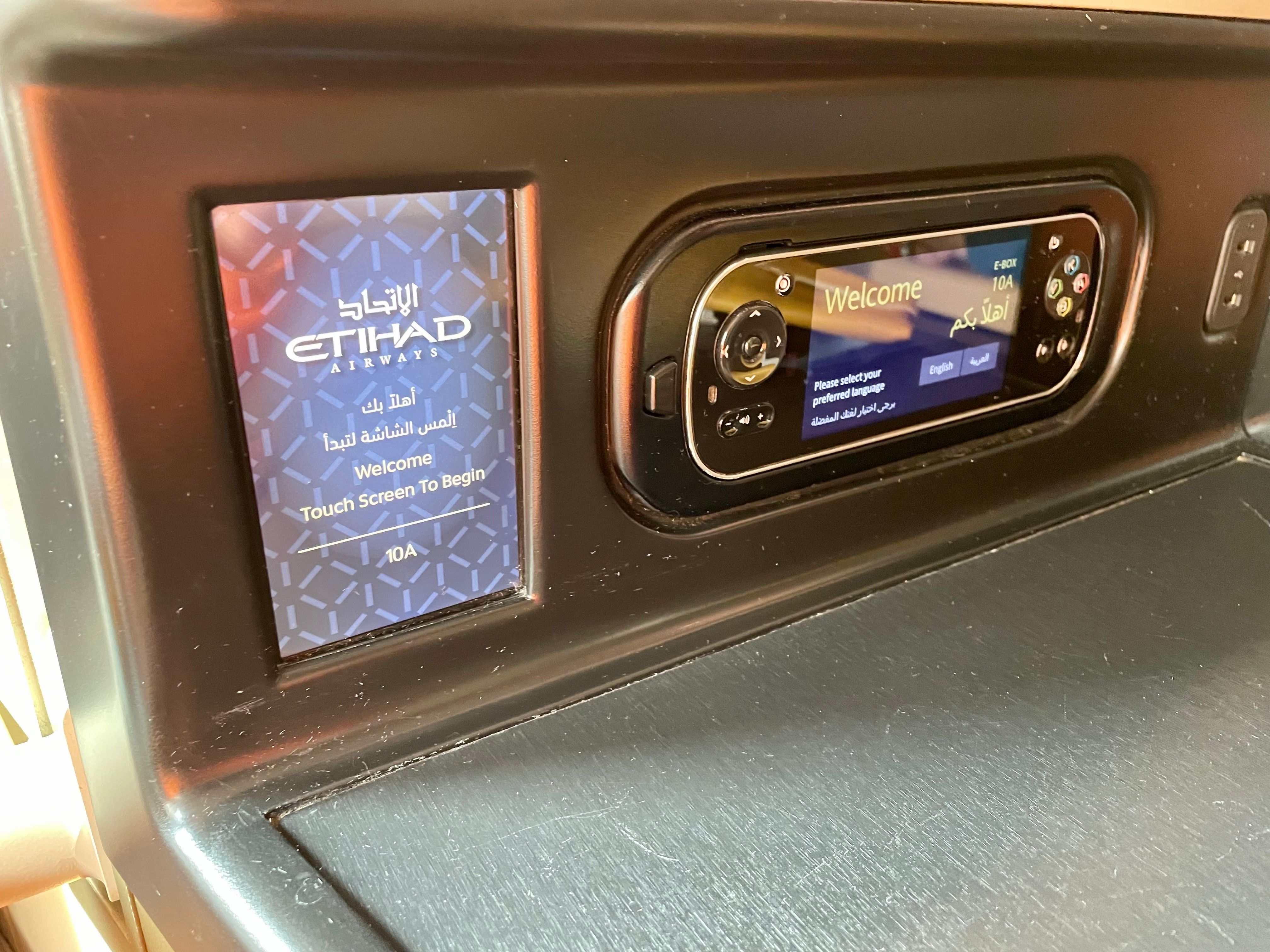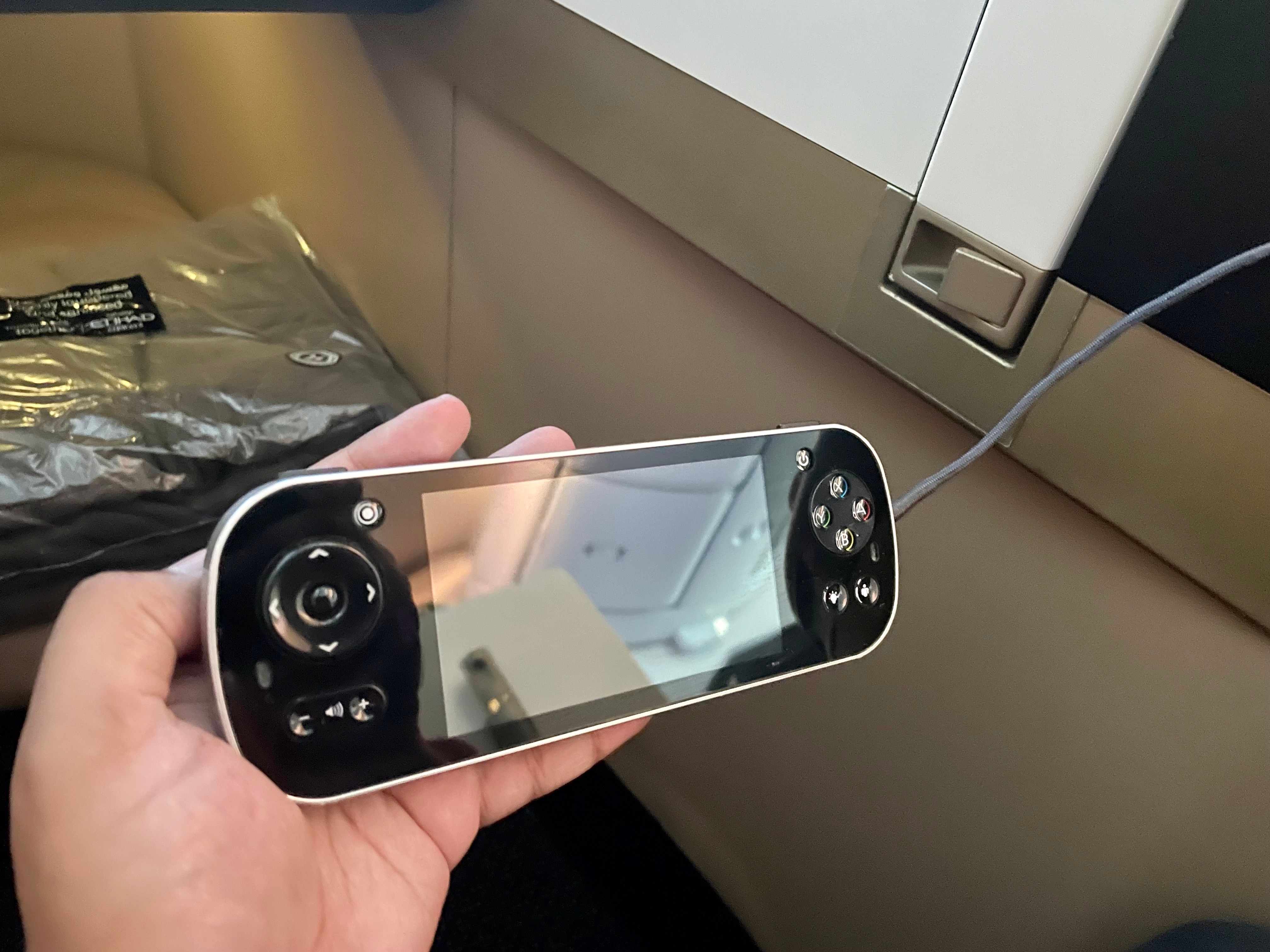 I got a little sleepy so I blacked out the famous 787 windows, which can be adjusted with the buttons on the bottom.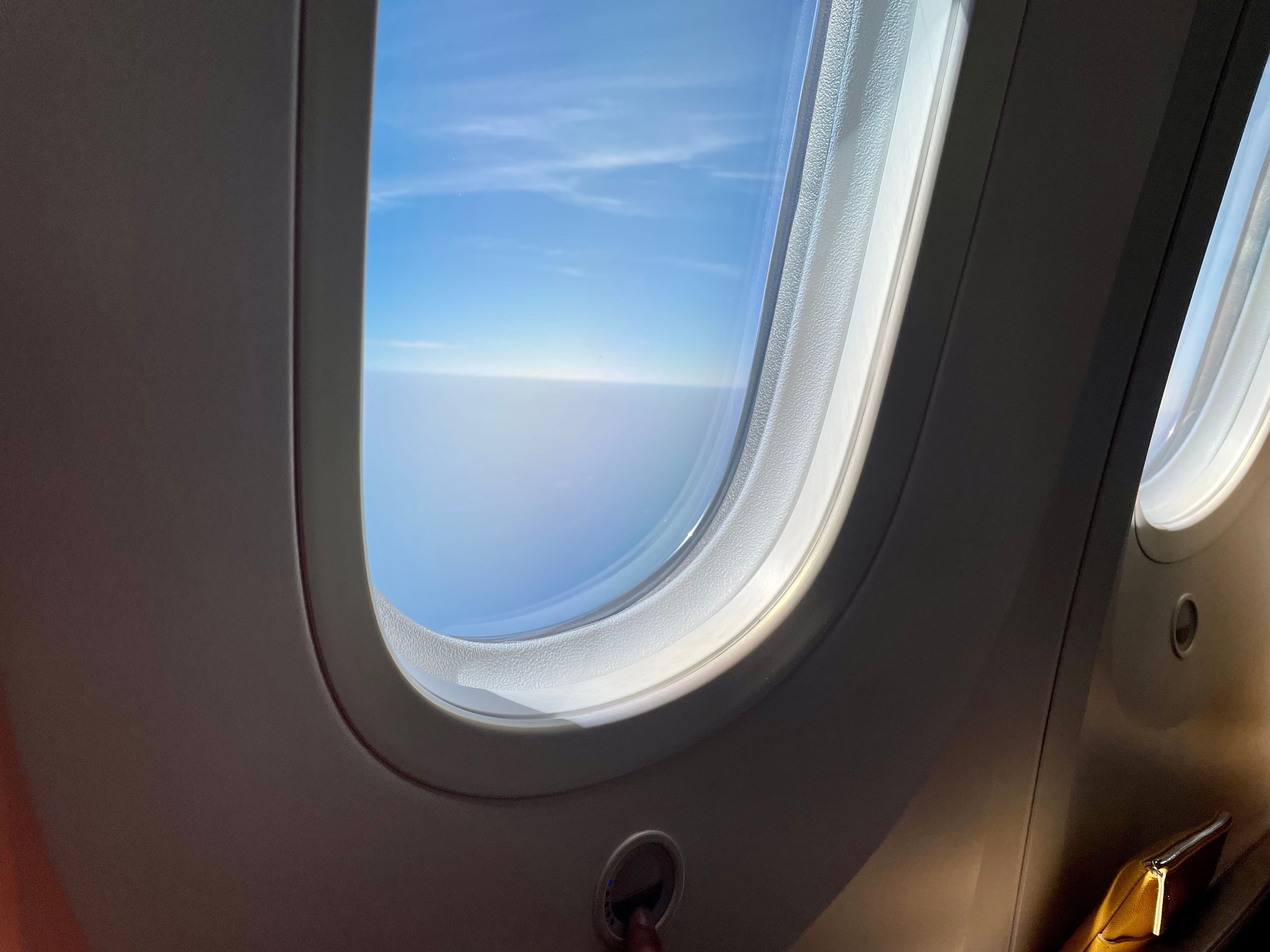 Photo: Sumit Singh | Simple flight
Soon the windows darkened and I fell asleep listening to Phil Collins greatest hits through the IFE. I'm not that tall and I think the length of the seat is the length of my bed at home. There was also plenty of room to turn to get into the right position for the right kip.
Final approach
After waking up about an hour before landing, I was soon treated to my last meal.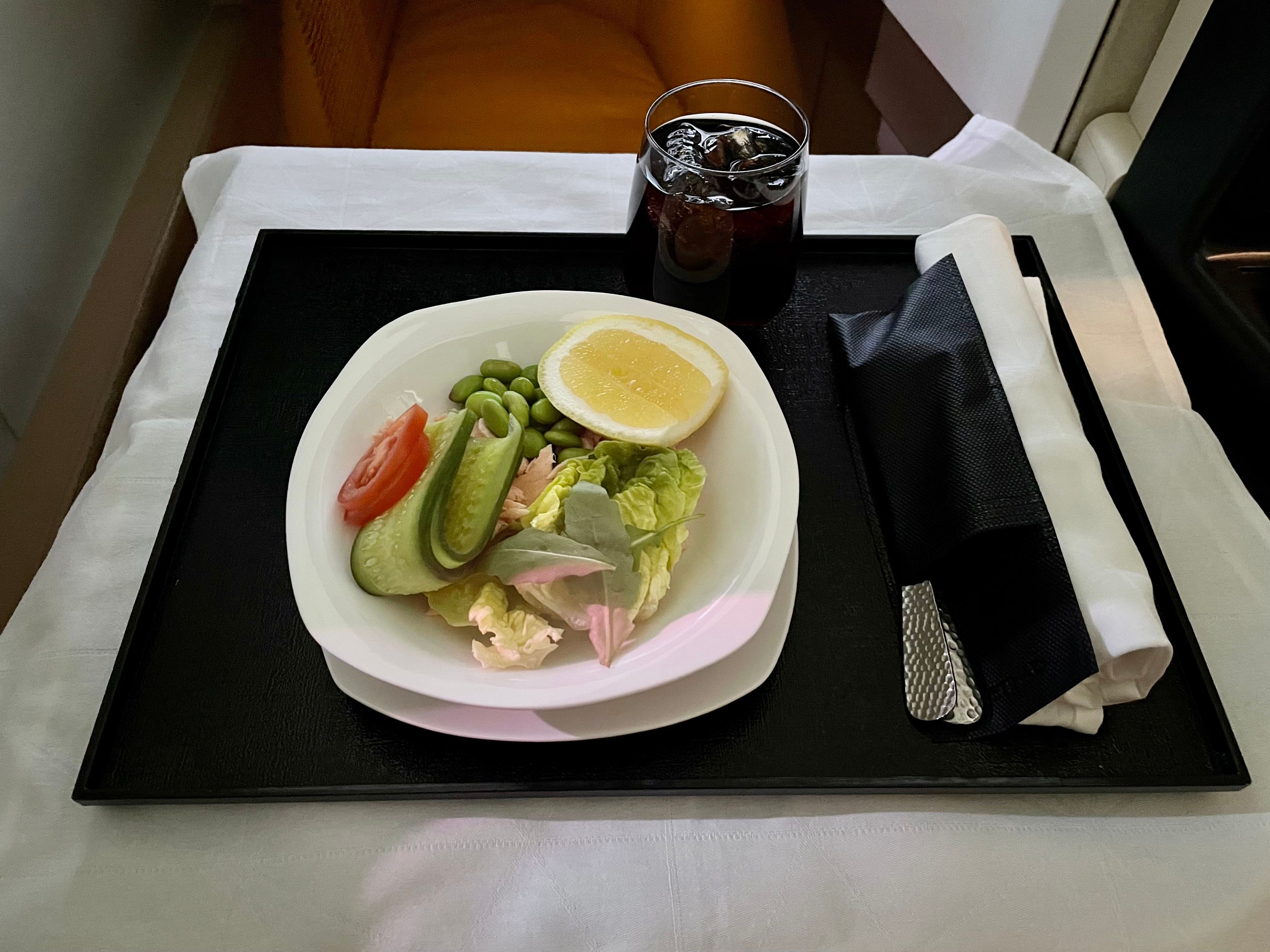 Photo: Sumit Singh | Simple flight
The salad was a little underwhelming as the galley on the A350 was a bit busier as seen in the photos from that flight below.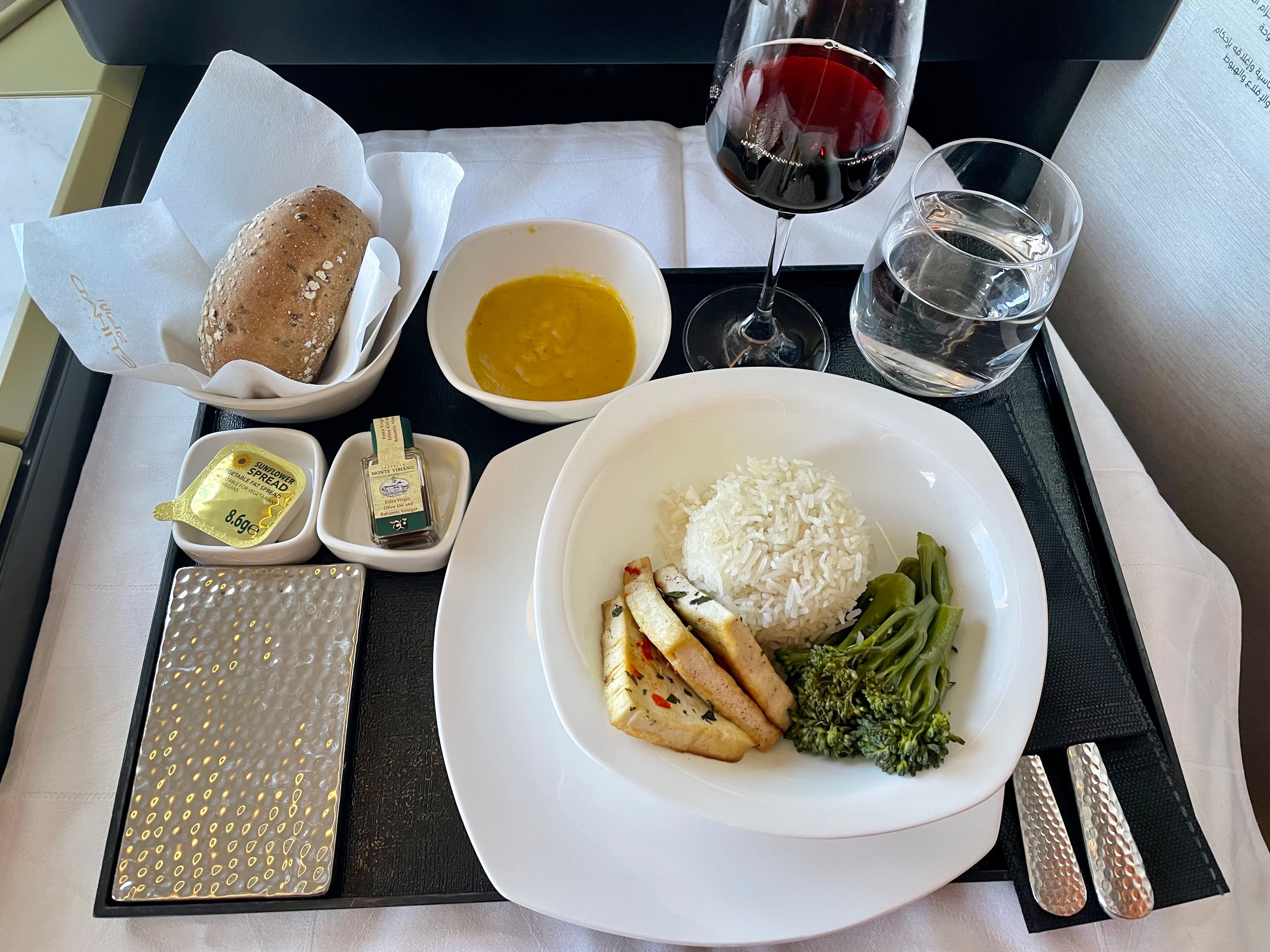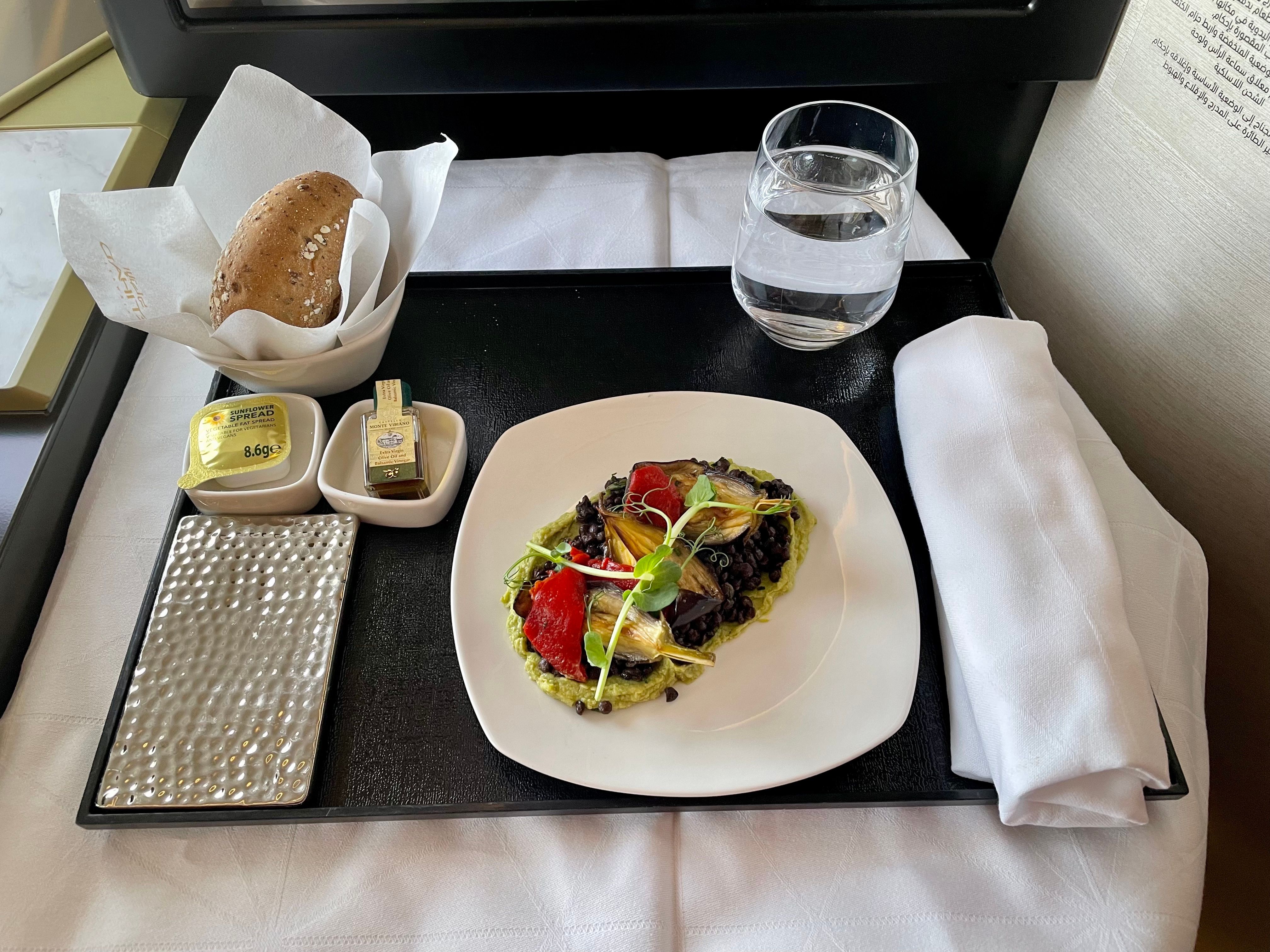 Approach and disembarkation were as smooth as ever and I was delighted to see an ex-British Airways Concorde after landing at Heathrow. EY25 landed at 15:08 BST.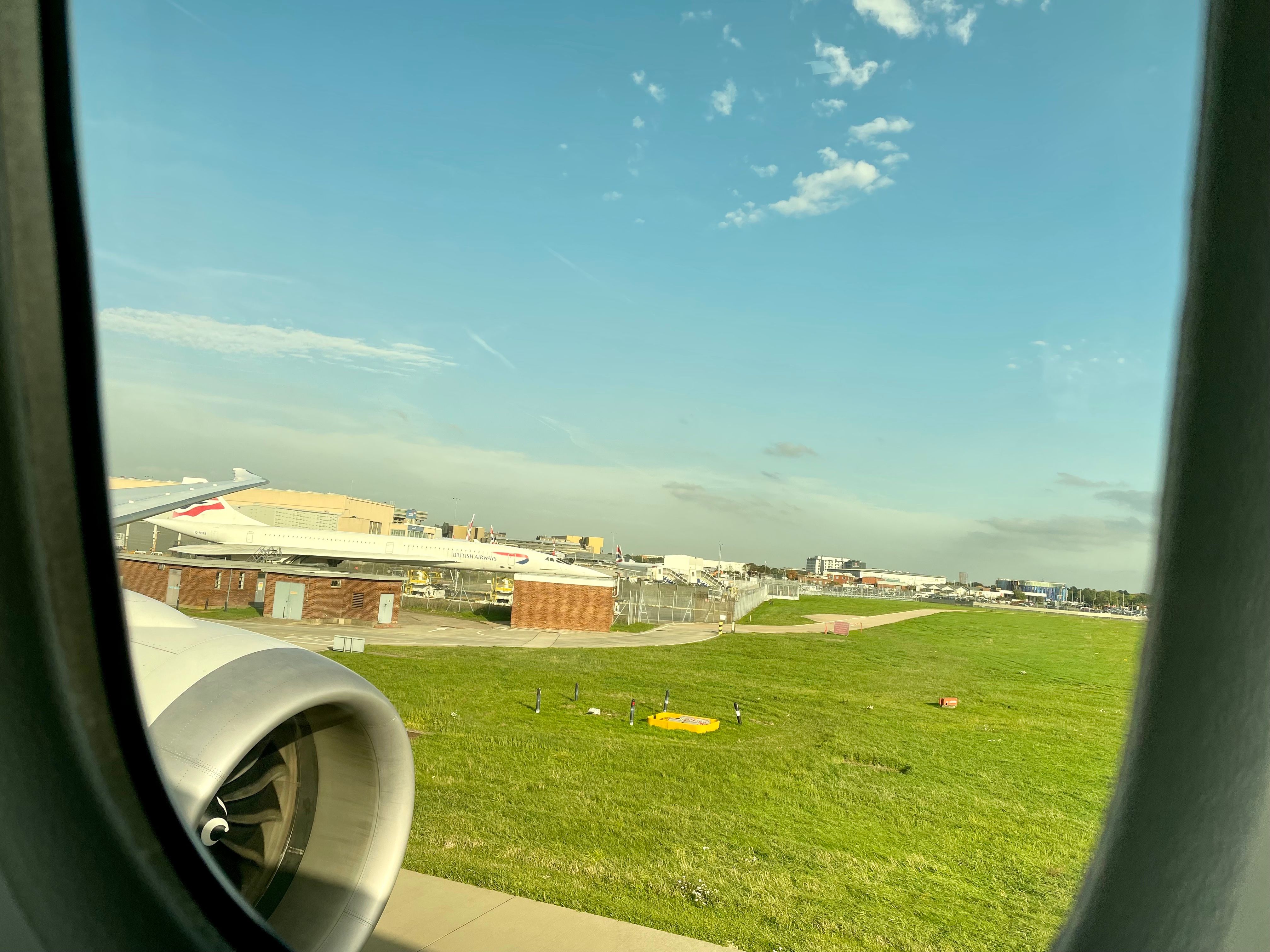 Photo: Sumit Singh | Simple flight
I can't think of a better way to spend seven hours and 30 minutes in the skies of the Middle East and Europe. There were some issues, and I missed the A350's increased privacy, such as its tall sliding doors. Once on board, however, most of my worries were dispelled. I had a wonderful relaxing time and finished with attentive service from Sarah and her team.
Soft products in business class will be enhanced in the coming months following Etihad's partnership with Armani. We've already seen glimpses of what it's like for the UAE carrier to collaborate with Italian fashion houses. The new initiative will be the icing on the cake for the onboard product.
What do you think of Etihad's Boeing 787-9 Dreamliner Business Class? Have you flown in this cockpit since it was introduced? Let us know what you think about the plane and its offerings in the comments section.
Simple Flying flew to visit Etihad.
IATA/ICAO code:

EY/ETD

Airline type:

A full-service carrier

Hub(s):

Abu Dhabi International Airport

Year of foundation:

2003 year

General Director:

Tony Douglas

country:

United Arab Emirates
https://simpleflying.com/flight-review-etihad-boeing-787-in-business-class/ Etihad Boeing 787 in business class from Abu Dhabi to London Heathrow