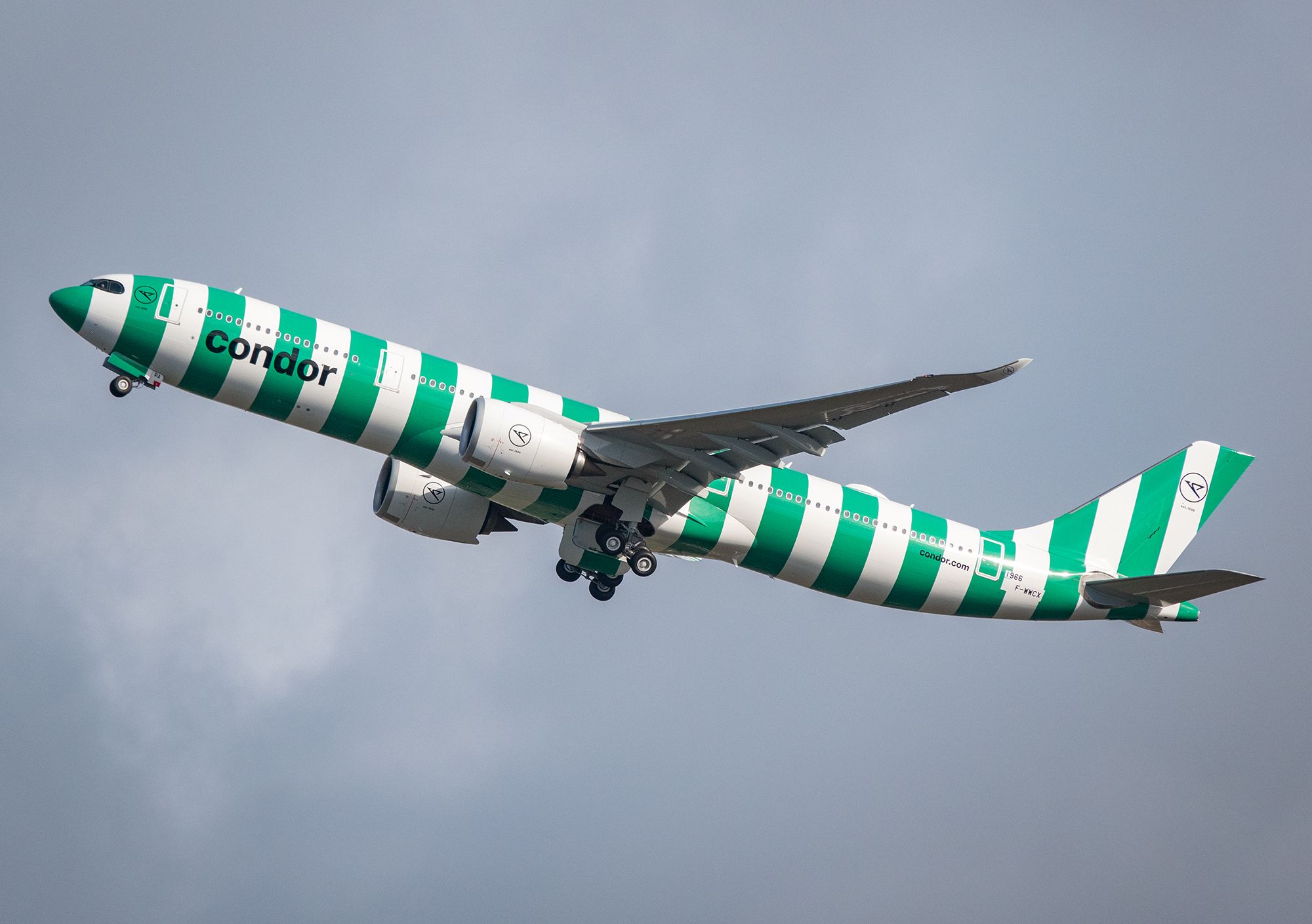 Condor Airlines, a German travel carrier, saw its first Airbus A330neo get up for the first time. The aircraft completed a factory test flight on November 28, marking the next milestone in the introduction of the type into the airline's fleet.
First test flight
With factory registration F-WWCX, the A330-941N took off from Toulouse (TLS) on long orbits over western and southwestern France. According to FlightRadar24.com, the gate-to-gate flight lasted 3:05 hours and had a maximum altitude of 41,000 feet or 12,497 meters. It seems a few misses were made as well.
The A330neo will deliver Condor efficiency
Condor Airlines is beginning to replace the Boeing 767 in its fleet of nine aging aircraft. The A330neo will replace this wide-body aircraft, improving its operational efficiency. But the most noticeable element of the A330neo is undoubtedly its livery, which is said to be inspired by the beach towels that German holidaymakers are so famous for spreading out on sunbeds at dawn. Ralf Techkentrup, CEO of Condor, noted that the purpose of purchasing this aircraft was "an inextricable combination of sustainability and recreation with Condor."
The A330neo comes with Rolls-Royce Trent 7000 turbofan engines and new wings that increase the wingspan to increase lift and reduce drag. The Rolls-Royce Trent 7000 adds nearly 1,000 nm of range and can run on sustainable aviation fuel (SAF). Airbus also claims that it reduces fuel consumption by 25% as well as CO2 emissions, giving airlines more opportunities to generate profits through lower operating costs.
In fact, according to Condor, the A330-900's fuel consumption per passenger per 100 kilometers (62 miles) is 2.1 liters (0.55 gallons). On a per-passenger basis, that works out to 12.72 mpg – certainly more efficient than any single-seater that runs on petroleum. In addition, noise pollution will be reduced by approximately 40% compared to the original A330s.
In preparation for the new arrival, Condor took delivery of the A330-200 earlier this year. Back in February, the airline's chief operating officer, Christian Schmidt, said that the A330-200s would only be used temporarily in a two-class configuration until the A330neos came online. The striped A330-200 has already been spotted flying around the world, turning heads and performing at any airport.
Airbus A330neo passenger experience
Condor says the A330-900 will have 30 Business Class seats, 64 Premium Economy Class seats and 216 Economy Class seats. The cabins are also equipped with demonstrative lighting, as well as all seats in-flight entertainment options.
Condor's new A330neos are equipped with high-speed Wi-Fi at broadband speeds. There is also an additional holder for personal electronic devices, while USB-A/USB-C sockets are installed to connect these devices.
Business class seats will lie flat in a 1-2-1 configuration. For those seats, there's a 17.3-inch screen that can display 4K high-definition videos and games. In addition, the airline offers noise-canceling headphones for this seat class should passengers need them.
Meanwhile, the premium economy section gets another 13 centimeters (5 inches) of seat pitch. There are also adjustable headrests and footrests.
The economy seats are still relatively comfortable and have 4-way adjustable headrests. The seats also come with a pitch of 76 centimeters/30 inches, which is pretty standard.
What is your experience with the A330neo in Condor Airlines service? Please share in the comments with courtesy.
Promotion code:

AIR

Date of establishment:

1970-12-18

General Director:

Guillaume Faure

Headquarters location:

Toulouse, France

Main product lines:

Airbus A220, Airbus A320, Airbus A330, Airbus A340, Airbus A350, Airbus A380

Business Type:

Airman
https://simpleflying.com/condor-first-airbus-a330neo-flies-first-time/ Condor's first Airbus A330neo flew for the first time