Aviation
CNG Fuels opens tenth biomethane filling station in the UK for heavy-duty trucks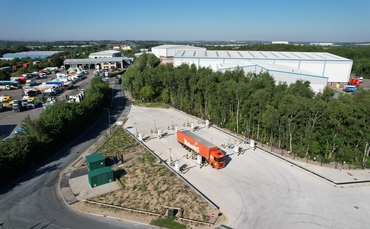 Biomethane supplier CNG Fuels has today officially opened its tenth Heavy Duty Vehicle (HGV) filling station in the UK. The company's new site in Castleford, West Yorkshire, will take the company's total capacity to service 5,000 HGVs across the country daily, it was announced today.
The new station on an industrial estate in Normanton could fuel up to 500 lorries every day with low-carbon fuel, potentially reducing up to 67,000 tonnes of greenhouse gas emissions each year, equivalent to removing 40,000 cars from UK roads each year. CNG Fuels said.
The Castleford petrol station is now the company's tenth operating site. Other facilities across the country include a public biomethane filling station in Avonmouth near Bristol, which CNG Fuels says is the largest of its kind in the UK.
CNG Fuels also plans to open a further ten biomethane filling stations for HGVs by the end of next year, with construction already underway at new sites in Newton Aycliffe and Corby.
In total, CNG Fuels now estimates it can save 1,600 tonnes of CO2 each day through biomethane used at filling stations as a replacement for petrol or diesel. or 584,000 tonnes of CO2 annually compared to diesel, equivalent to powering more than 113,000 homes for an entire year.
HGVs account for 4.2 per cent of UK carbon emissions, making the sector key for decarbonisation if the UK is to reach its net-zero emissions target by 2050, according to the Department for Transport.
Last year, the UK government announced plans to ban the sale of new petrol and diesel HGVs from 2040, which CNG said had "increased the need for fleets across the country to find alternative solutions for petrol and diesel HGVs".
CNG Fuels said most of the UK is already within a 300-mile round trip of one of its filling stations, with the latest opening adding Leeds, Hull and Wakefield to its coverage area, which will serve local and passing fleets on the M1. A1 and M18. He added that he hopes his new site will serve both existing CNG Fuels customers and new fleet operators with access to low-carbon biomethane.
"Fleet operators around the world are urgently looking for ways to reduce emissions from their fleets," said Philip Field, CEO of CNG Fuels. "In the UK, fleet operators can do this today by switching to biomethane. Our rapidly developing network of refueling infrastructure has made biomethane more accessible than ever before, and fleets – from local hauliers to major household brands – are cutting emissions dramatically every day. Our the newest station at Castleford builds on our existing network, providing low carbon delivery all the way from Inverness to Cornwall."
According to CNG Fuels, by 2025 around 10 per cent of the UK HGV fleet is expected to run on biomethane, dubbed Bio-CNG. The company said it has seen rapid growth in demand since the beginning of this year. , including increased orders for trials of the Iveco 6×2, a biomethane truck that will soon be launched on the market.
CNG also reported that there is an increase in the number of household brands looking to switch to bio-CNG. Supermarket Aldi recently announced its commitment to switch to biogas powered HGVs to reduce emissions from its fleet and handle more low-carbon deliveries. Aldi's national director of corporate responsibility, Liz Fix, said the supermarket planned to use the new site in Castleford to speed up the change.
"Aldi is committed to reducing our carbon footprint and the adoption of bio-CNG HGVs is another step forward in our plans to reduce emissions from our UK fleets," she said. "CNG Fuels' latest station in Castleford opens the doors to major transport networks in the North East and their growing network will only increase the number of low carbon deliveries we can make across the country every day."
Existing CNG Fuel customers, including Royal Mail, Waitrose and Warburtons, are also expected to take advantage of the new site.
In addition to biomethane, CNG Fuels said it is also looking at testing hydrogen fuel options in its portfolio to ensure its stations can support multiple fuel options as new technologies develop and become commercially viable.
He said he will begin his first hydrogen tests this year and that by 2025 he plans to dedicate about 100 acres of his land for public access to hydrogen refueling.
https://www.businessgreen.com/news/4054822/cng-fuels-tenth-uk-biomethane-refuelling-station-heavy-lorries CNG Fuels opens tenth biomethane filling station in the UK for heavy-duty trucks