Aviation
'Basic environmental standards': Government urged to strengthen terms of trade agreements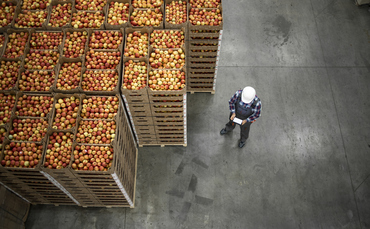 WWF and the Institute for Development Studies (IDS) are calling on the government to take action to end sustainable agriculture being undermined by environmentally damaging imports

The Government was today urged to introduce "core environmental standards" that would apply to all UK food imports and underpin all post-Brexit trade deals.
suggestions, compiled in a new paper by WWF and the Institute for Development Studies (IDS)argue that the UK should set minimum environmental requirements for all imported food to protect British agriculture from unfair competition from cheaper goods produced to worse environmental standards overseas.
The report argues that without clear and universal standards for imports, UK trade policy could undermine the government's plans to encourage UK farmers to contribute to regeneration and conservation through subsidy reforms.
While the UK imposes regulations on domestic farmers to protect the environment and animal welfare, the same requirements are not imposed on food imported into the UK.
"We know we can farm in ways that benefit both people and nature, but to achieve this we need to align our trade policies with our environmental goals," said Angela Francis, director of policy solutions at WWF- Great Britain. "The UK can do this by developing basic environmental standards for all food imports and supporting farmers in developing countries to meet these standards through financial and technical support for modern agri-environmental practices that will deliver more sustainable income and lower production costs."
The document states that standards to improve the sustainability of food imported from abroad will complement the government's ongoing agricultural reform agenda.
Farming groups have warned that without action to tackle unfair competition from abroad, it may be harder to get farmers to sign up to the Government's new Ecological Land Management (ELM) scheme, which is designed to provide "public money for public goods".
The government faced significant criticism last year for signing post-Brexit free trade deals with New Zealand and Australia that allow the sale of foreign food produced to far lower animal welfare and environmental standards than allowed in the UK.
Some free trade advocates argue that introducing stricter environmental and climate standards into trade deals could restrict trade and lead to higher prices for consumers.
But today's report argues that to prevent the introduction of major environmental standards that adversely affect exporters from the Global South, they must be accompanied by a package of financial support to help producers comply with the new requirements.
"Sustainable development standards and trade rules can have both positive and negative effects on the poor, so 'inclusive' trade can often conflict with 'sustainable' trade," said Amrita Saha, Research Associate and Head of Trade and Development at IDS. "These trade-offs between inclusion and sustainability need to be carefully considered in trade policy.
"Reconciling trade policies to support sustainable and inclusive food systems requires a focus on increasing funding to support compliance by Global South producers with core environmental standards."
In response, the Department for Environment, Food and Rural Affairs (Defra) said the UK had a "large and highly resilient food supply chain" and reiterated its claim that international trade would not undermine domestic environmental standards.
"Our high food security is based on supply from various sources; strong domestic production, as well as imports through stable trade routes," Defra said in a statement. "In line with the commitments in the manifesto, the UK's high standards of environmental, animal welfare and food protection will not be compromised by our international trade. We are committed to an approach that protects and promotes the interests of British farmers, food producers and consumers."
The department added: "The government is in regular contact with the food and farming industry to ensure they are well prepared for a range of scenarios and we continue to take all necessary measures to ensure people across the country have the food they need."
https://www.businessgreen.com/news/4073429/core-environmental-standards-government-urged-strengthen-trade-deal-conditions 'Basic environmental standards': Government urged to strengthen terms of trade agreements