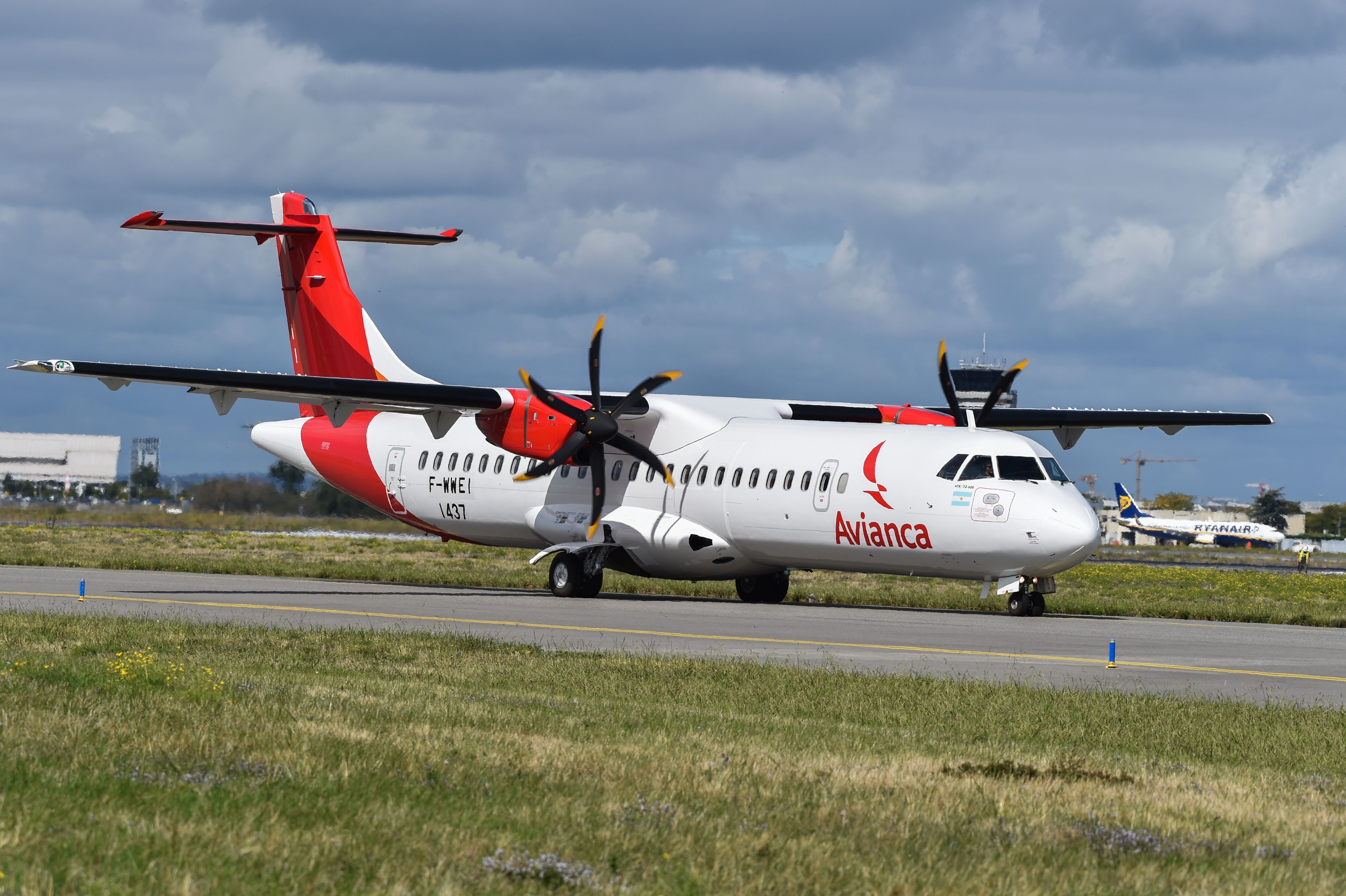 When it comes to turboprop aircraft, two brands come to mind. The first is Aerei da Trasporto Regionale 72 (ATR 72), and the other is the De Havilland Canada DHC-8 (Dash 8). However, which of the two planes is better? Let's see.
Which aircraft are we comparing?
If you've flown a commuter route to a smaller airport, chances are you've flown aboard a turboprop aircraft. This type of aircraft has propellers rather than jet engines (specifically turbofan engines) and is a bit slower, but is pressurized and can still make a similar journey to a jet aircraft. Turboprop engines do have some advantages, such as being able to land at smaller airports and being cheaper to operate.
The first aircraft we will compare is the ATR 72, named after the number of passengers and designed in France ATR in 1984. ATR is half-owned (50%) by Airbus and benefits from its technology.
ATR series aircraft have high wings that keep the engines and flaps off the ground. Photo: Getty Images
The second aircraft is the DHC-8 (known as the Dash 8, not to be confused with the Dash-80). It has been built by a number of builders throughout the life of the brand (De Havilland in 1984, Boeing in 1988, Bombardier in 1992 and now Longview Aviation Capital in 2019).
Since both types of aircraft are widely used around the world and were developed around the same time, they can be compared. There are several types of older ATR 72s, but for this study we will use the latest version (-600). Since there are four types of Dash 8 (Q100, Q200, Q300 and Q400), we will use the most popular one (Q400) for this comparison.
The Q400 is an industry favorite. Photo: Getty Images
Range and capacity
We'll start by examining the passenger capacity and range of both aircraft:
The ATR 72 can carry 70-78 passengers (depending on seat pitch) over a distance of 1,528 km (825 nm).
The Dash 8 Q400 can carry 82-90 passengers (depending on seat pitch) for a range of 2,040 km (1,100 nautical miles).
From the above we can see that the Dash 8 Q400 is superior to the ATR 72 in terms of range and passenger capacity. It can carry more passengers than the ATR 72 (but only a few more) over a longer range.
Fuel efficiency
However, most airlines will not use these aircraft for maximum range, but instead for short commuter routes. How does their fuel efficiency compare over the short haul?
This is where things get a little murkier. According to the ATR website, the ATR 72 is 39% more fuel efficient over 300nm. We could conclude that the ATR 72 is much more economical than the Q400, but the Q400 carries more passengers. In terms of fuel consumption per seat over the same distance, the Q400 is 8% ahead.
Also, it assumes that the two planes are flying at the same speed for the same distance. But don't be too quick to give up on the Q400. Standard maximum speeds are as follows:
ATR 72 cruising speed: 510 km/h (280 knots)
Dash 8 Q400 cruise speed: 556–667 km/h (300–360 knots). The Q400 also cruises at a higher altitude.
This higher cruising speed means that the Q400 aircraft gets to its destination faster (an hour's flight for the Q400 takes one hour and 15 minutes for the ATR 72). Faster flights mean more sectors per day. This means the Q400 can fly an extra hour every six hours over the ATR 72.
Adding more cabin seats and faster turnaround times can mean a better bottom line for the airline.
The Q400 is particularly efficient. Photo: Getty Images
How much do they cost?
The ATR 72 may be cheaper to run, but will it cost more than the Dash 8? Let's take a look at the prices:
ATR 72-600: $26 million
Dash 8 Q400: $32 million
The ATR 72 is cheaper when it comes to the price list. Photo: Getty Images
Climate change
Over the past year, against the background of the global health crisis, there has been a significant change in conditions in the aviation industry. Turboprop operations have been and will be massively affected by these changes. Initially, a serious decline in passenger activity was observed in 2020. However, due to strict travel restrictions, short-haul services have become more popular than long-haul ones.
Later, a new role appeared for turboprop engines. For example, in the summer of 2020, Hi Air confirmed that it was increasing its regional connection to Korea by buying two ATR 72 aircraft. The move highlighted the resilience of the regional aviation industry, which has been recovering faster.
About 600 Q400s and more than 400 ATR 72s had been delivered before the pandemic began. Photo: Getty Images
ATR's senior vice president of commercial affairs, Fabrice Vauthier, emphasized the role that the firm's aircraft continue to play. Turboprop engines have additional advantages for these local operations.
"Regional connectivity is more important than ever and therefore the regional aviation segment will be resilient. In many countries, we are already seeing domestic and regional routes return first, and in the case of Hi Air, they continue to fly. Businesses, governments and people around the world are looking for solutions to this crisis, and regional aviation has a key role to play," "Our ATR aircraft have the right combination of economy and operational versatility to support airlines. In addition, with their advantages in fuel burn and CO2 emissions, they are the ideal solution to help aviation emerge from this global recovery into a more sustainable industry."
Turboprops remained as popular as the aviation market began to recover.
2022 year Farnborough Airshow is a striking example of such popularity. The ATR 72 attracted a lot of attention at the event, including when the Japanese Feel Air signed a letter for 36 units of the aircraft. Air Serbia also confirmed this this summer it was adding additional ATR 72-600s and considering a P2F conversion.
A place for both
It is not only ATR that is proving to be a useful solution in the new era. At the height of the pandemic, there were few deliveries of the Dash 8. Carriers such as Biman Bangladesh Airlines began receiving units. The company noted that the aircraft's economic and passenger conditions allow it to offer high-frequency services in Bangladesh and neighboring countries. The turboprop engine pairs well with the carrier's narrow-body jets to improve overall network efficiency and connectivity.
Notably, the operator said that during the health crisis, he found the role of Dash 8 even more important as he sees a gradual recovery of traffic after the lockdown. De Havilland Canada Regional Vice President of Sales, Rob Baseggio, shared that the Dash 8-400's greater passenger capacity and cargo capacity sets it apart from its competitors and gives Biman the opportunity to optimize its network.
De Havilland suspended production of the Dash 8-400 in mid-2021 to focus on the backlog. However, the company is working to resume production at a new facility in Alberta. The Q400 continues to generate interest, with Connect Airlines announcing last month that it is leasing three units from NAC.
Turboprop engines will play an important role in the future of commercial aviation as the situation around the world changes. Photo: Getty Images
Bottom line
Above all, both aircraft provide a fantastic solution for commuter routes and services in remote, challenging areas. However, different carriers have different requirements. A factor for one company may be much more important than for another. For example, The Dash 8 has been praised for its ability to adapt to critical firefighting tasks.
The ATR 72 comes at a lower cost and is cheap to operate. These aspects make the aircraft an ideal proposition for airlines looking for a simple solution. If an airline needs additional range or has high passenger demand, the Dash 8 Q400 may be a better fit. Nevertheless, both turboprop engines will play an important role in the airline industry's recovery.
Overall, which aircraft of the ATR 72 and Dash 8 do you prefer? Have you flown either of the two planes over the years? Let us know what you think about turboprop engines in the comments section.
https://simpleflying.com/atr-72-vs-dash-8/ ATR 72 vs Dash 8