Aviation
American Airlines commits to purchasing 20 Boom supersonic jets in the future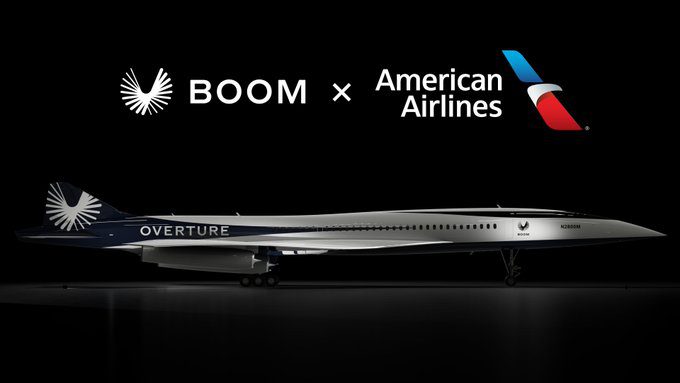 American Airlines has committed to a future purchase of 20 Overture airliners from Boom Supersonic, according to a new the agreement the two companies announced Tuesday. The agreement provides for the payment of an undisclosed non-refundable deposit to the Americans, with the option of purchasing 40 additional aircraft.
The Overture is American Airlines' latest investment in next-generation aircraft following the Aug. 3 deal achieved with ZeroAvia to purchase 100 hydrogen-electric engines from a California startup. American's agreement with Boom includes requirements that the company meet "industry standards, operational, performance and safety requirements and other customary conditions of American."
"The world's largest airline is now poised to become the world's largest supersonic airline," Boom Supersonic CEO Blake Scholl said in a tweet announcing the new deal with American.
American Airlines is the latest major commercial airline to place its trust in the industry and invest in Boom Supersonic as the company continues to develop its Overture airliner and prepares for the first flight of its XB-1 demonstrator aircraft — originally scheduled for last year, now expected to that it will later this year — from its hangar in Denver, Colorado.
last year United Airlines announced its own commitment to purchase 15 Overture supersonic airliners with an option to acquire 35 more aircraft. Japan Airlines (JAL) was an early investor in Boom, committing to purchase 20 aircraft back in 2017.
Overture is being designed to carry 65 to 80 passengers at Mach 1.7 over water — or twice the speed of today's fastest commercial jet. Boom published detailed information about the an updated design Overture and supplier agreements with Collins Aerospace, Eaton and Safran during the Farnborough International Air Show in July. Updated design features revealed by Boom include four wing motors, gullwings and a digital control-by-wire system that will be "4x redundant" and run on two line replaceable units (LRUs), according to the company's announcement from July 19.
Other updated specs revealed by Boom include a 4,250nm range with full payload and a "4x mid-bypass engine, 100% SAF compliant" turbofan. The Overture's fuselage will also have a larger diameter at the front of the aircraft and a smaller diameter at the rear, according to Boom.
In the agreement reached with American Airlines, Boom maintained its commitment to launch the first production Overture aircraft in 2025, which "will carry the first passengers by 2029".
"Looking forward, supersonic travel will be an important part of our ability to serve our customers," said Derek Kerr, American's chief financial officer. "We are excited about how Boom will define the future of travel for both our company and our customers."
https://www.aviationtoday.com/2022/08/16/american-airlines-commits-future-purchase-20-boom-supersonic-jets/ American Airlines commits to purchasing 20 Boom supersonic jets in the future